Paul di Resta thinks that Force India can finish above McLaren in the constructors' standings
Scot reckons Silverstone was a turning point
By Mike Wise at the Nurburgring
Last Updated: 04/07/13 6:36pm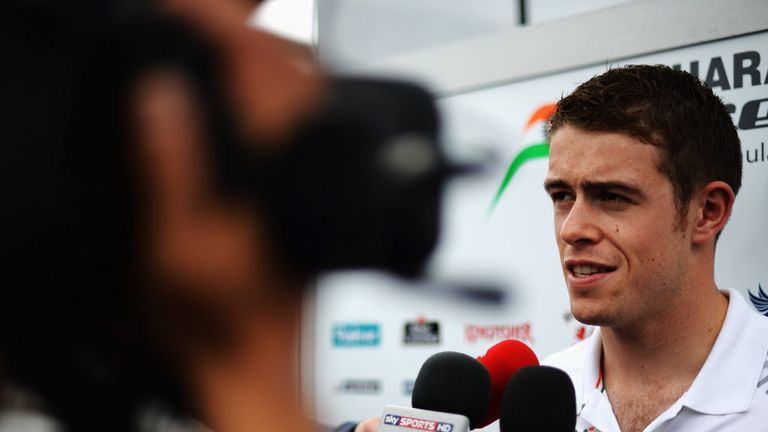 That has been the case so far in 2013, with Force India placed fifth in the standings ahead of McLaren thanks to a combination of their good form and the Woking team's problems with their own car.
The pace of their VJM06 was underlined by the career-best fifth place di Resta secured on the grid for the British Grand Prix last weekend. The Scot's joy was shortlived after a weight penalty saw him demoted to the back of the grid, but he recovered on race day to claim his seventh points finish of the season with ninth place.
Team-mate Adrian Sutil finished two places higher to extend Force India's lead over McLaren to 22 points. The latter outfit failed to score for the second time in as many races and also said at Silverstone that they're concentrating more of their efforts on 2014.
"Silverstone's probably quite a crucial gauge," di Resta said on Thursday. "It's probably a track we were quite nervous about beforehand; the wings and everything work at their maximum, which is key and that's probably not one of our strongest points. But it was the strongest qualifying we've had all year.
"I think that sets up where we go for the rest of the year. We know our car's normally quite good on low downforce tracks but we know it can equally be good at places like Suzuka.
"[McLaren] didn't seem to make any ground forward, although their race pace was a bit closer to ours.
"I think we've got a very strong chance of staying in front of them at the moment, unless they dramatically change something."
Jenson Button appears to share di Resta's sentiment. Speaking later, the McLaren driver said: "I was riding with him yesterday and I said the same thing to him. I said, 'You guys have got a big advantage on us'. They're doing a really good job.
"We're a lot of points behind them and it is going to be difficult to beat them in the Championship. It's something we've got to aim for - to at least be in the top five."
This weekend's German GP will see teams use a new Pirelli rear tyre in response to the series of blow-outs seen last weekend.
It's the same tyre which Force India - together with Lotus and Ferrari - vetoed ahead of the British GP as they were fearful that it might place them at a competitive disadvantage.
Yet di Resta, buoyed by his performance at his home race, thinks they can retain the gap to McLaren regardless.
"I think it's probably a bit more than tyres at the moment. If we'd qualified 12th at Silverstone and been fifth quickest in the race then maybe. But the fact is we qualified fifth and raced quite well," he said.
"People tried the tyre very slightly in Canada and I don't think it'll influence the running order too much."
Meanwhile, di Resta is still perplexed by the circumstances surrounding his exclusion from qualifying at Silverstone. The combined weight of car and driver were found to be below the legal minimum but a discrepancy was also noted on the scales drivers are weighed on.
Despite having good grounds to do so, Force India decided not to appeal the decision of FIA stewards, with di Resta quipping: "I've been eating a lot of pies this week. On Saturday, when we got told about the weight, I couldn't help but laugh about it. I'm so much more relaxed than I thought.
"I suppose the sense of relief was that I knew it didn't influence the qualifying result. I knew I'd qualified fifth, so it didn't take that away because it was a kilo. What would that have been, 1/200th or something?
"It was difficult in that I didn't get a chance to show what I could have done."
As for this weekend's race, the 27-year-old added: "I don't really know here. I think it's because you come here every two years so you lose sense of where you are.
"I think the aim should be as we were at Silverstone. It was only seven days ago we were at that grand prix. I think the top eight in qualifying is achievable and anywhere in the top eight in the race will be a bag full of points to take away from here and be satisfied."