Exclusive Q&A: James Calado looking forward to his practice debut with Force India
British driver also still targetting GP2 title
By Mike Wise and William Esler
Last Updated: 17/09/13 1:37pm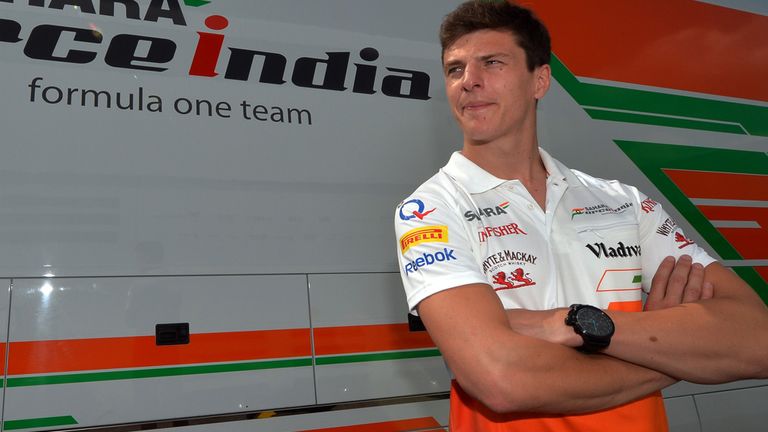 Do you know which other practice sessions you'll run in this season? Because at the moment it's only been confirmed that you'll run on Friday morning...
James Calado: "It's kind of under discussion - nothing has actually been confirmed yet. It can change all the time, because the fight between McLaren and Force India is quite a big thing for Force India, so they'll work it around the position they're in at the time. But I hope to be at Abu Dhabi, Brazil and Korea - places like that. We'll see what they say."
Is the deal for this season only?
JC: "The reserve driver deal is just for this year and the idea of the whole thing is that they can evaluate me, and we can discuss our options in 2014."
How did the deal come about? It sounds like your performance in the Young Driver Test was crucial...
JC: "It was nice just to get a go. There was a lot of pressure and there's a fine line between impressing the team and making mistakes - when it's your first time especially.
"It was quite nerve-wracking, because it was my first time actually driving a Formula 1 car. But at the end of the day I think I did a reasonably good job and they were impressed. And soon after that, actually, it was decided that I was going to be the reserve driver.
"I've actually known about it for a long, long time. It's only now I've been able to publicise it to everyone."
How difficult was it to sit on the news for so long?
JC: "Quite difficult because the announcement date kept getting cancelled all the time. So there were a lot of days it was going to be announced and in the end, I think, Monza was the right time.
"It's a good start for me because F1 uses very low downforce levels there and they're not far off GP2. So the jump won't be so huge as it is in a place like Silverstone and Monaco, for example."
Obviously the learning curve is still very steep but it must have been a whole lot steeper back in July?
JC: "It's a big step. People underestimate the difference between a GP2 and a Formula 1 car. They look exactly the same and they've got similar power. But Formula 1 is a good eight to ten seconds faster a lap and the majority of that is sheer downforce and corner speed.
"It's quite mind-blowing. During the first three laps, I couldn't believe what I was driving. I was completely out of my comfort zone. The only way I can describe it to people is if you're looking down, for example, in a road car on the motorway and you suddenly look back up and see standing traffic in the road, naturally you instantly slam on the brakes.
"Now, when you drive the Formula 1, it's that same feeling but instead of naturally slamming on the brakes, it's counting to two before you do it. That's how out of the comfort zone you are; that's how much grip these cars have got. It's mind-blowing but after about 15 or 20 laps I was used to it and pretty quick. I was about two-tenths off Paul that day and I think that's what made the final decision.
"I'm over the moon to be honest and it's absolutely crazy: all the phone calls and emails and things like that. It's been pretty mental."
Never mind being only two-tenths off Paul, how did your neck feel?
JC: "Silverstone for sure is the biggest test, physically, for any driver in Formula 1. That's the hardest part, your neck. Turning the steering wheel and doing everything you do in a GP2 car is much easier. The amount of g-force, especially around Turn 1, Maggots and Becketts...you do feel it in the morning."
You've got this reserve driver role at Force India but there's still three rounds of the GP2 Championship left. Is there a danger your F1 commitments might prove a distraction?
JC: "I'm going to be extremely busy, especially this weekend. But at the end of the day, I only see it as a positive. These days, you need as much time in any car as possible and I think if you're good enough, you're able to adapt quick enough.
"You've just got to realise that the Formula 1 is a good ten seconds faster and reset your mind going back to the GP2 - and then almost visualise what a lap in GP2 is like. I'm sure that within two or three laps it'll be no problem and I'll be straight back on the pace again.
"Obviously my work load is a lot higher now than it has been since the start of the season. It's not just practice sessions and things like that: there's a lot of simulator work; a lot of stuff with the team, doing pretty much everything the race drivers do.
"It's going to be hard but I'm ready for the challenge - mentally and physically. It's my only chance, probably, to show what I can do and hopefully be in line for a race seat in 2014."
What are your prospects for 2014? Presumably it's very difficult indeed to land a race seat in F1...
JC: "It's hard. I think I've just got to concentrate on this year, do a really, really good job and see what happens. But obviously I would love to be a race driver in Formula 1; that is the ultimate ambition and I'll work as hard as I can to get to that point."
Do you think you get noticed more practicing a Formula 1 car than you do racing a GP2 car? The career of last year's Champion, Davide Valsecchi, seems to have plateaued...
JC: "I think so, yes. To be honest, it was Valsecchi's third or fourth year so he was kind of expected to win. If it's taking you that long, are you really good enough? That's the question.
"Ultimately, someone like Valsecchi is a very good driver and he probably deserves a place in F1. But as you know, it's very political and money-oriented. You've got to be almost exceptional to do it on talent alone."
How would you sum up your season in GP2 so far? You're currently fifth in the standings, which is where you finished last year but won your first race of 2013 in Belgium...
JC: "It's been tough. We've been struggling a lot, trying to get this car live with the new tyres at the start of the year. We haven't really found a good balance or direction to build on.
"The other difficulty is my team-mate is very, very off the pace and I've got no comparable data. I do my free practice, I go to a computer expecting to see places where I can improve and there's nothing there because he's nowhere near me at the moment.
"I'm having to compare data from 2011 with Bianchi and people like that - when the car was completely different and the tyres were different.
"It's tough but I think Spa showed some progress. We've been on the phone to my engineers and working hard to suss out a good direction and set-up for this race in Monza.
"I hope it works because we've got a really good chance of winning the Championship."
That's fighting talk. There's Monza, Singapore and Abu Dhabi left; you really think you can come through and take the title?
JC: "Yes, definitely. If ART give me the tools to do the job, I will win the Championship - no doubt about it. Because I feel like I'm doing everything right at the moment, I'm on top form with my starts and everything is just really, really good.
"I feel really good in myself. I just need the car to be able to complete the job and if they can supply that, I stand every chance of winning the Championship. The likes of Coletti are not so fast at the moment and I just need to be able to take advantage of that and get myself back up to the front."
You mentioned the tyres before. Presumably it's like F1, in that it takes teams time to understand new tyres and get them to work. Is that the situation with ART?
JC: "Yes, it's tough. But a team like ART, you'd expect them to find it quicker than they have. The likes of Russian Time and Hilmer Motorsport - they're new teams and they've just come in and straight away been on the case.
"It's quite daunting that a team with such experience is unable to find a good balance quick enough. But at the end of the day, I've got full faith in their capability. I'm not giving up and, like I said, if they supply it we'll be winning races once again."