Vijay Mallya says Mexican markets not pre-condition of Sergio Perez signing
"I don't believe in the pay driver concept," insists team owner
By James Galloway
Last Updated: 13/12/13 11:02am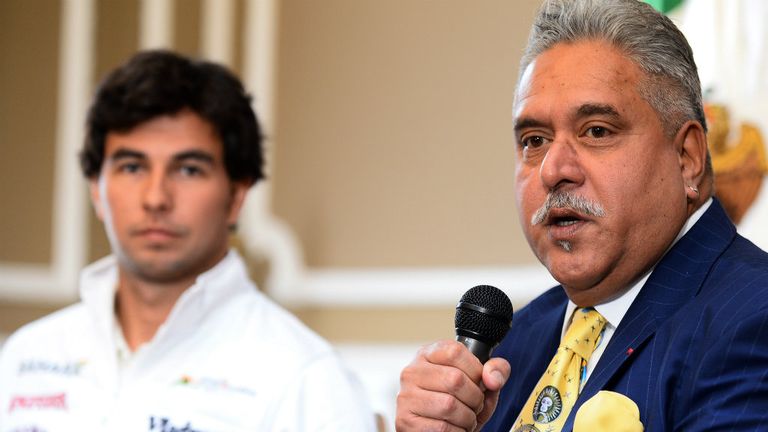 The Silverstone-based outfit confirmed the expected news on Thursday that Perez, after being released by McLaren after just one season, was joining them for 2014 to partner the returning Nico Hulkenberg.
Perez's arrival, which was announced at the Mexican ambassador's residence in London, immediately prompted suggestions that Force India's commercial portfolio would soon be swelled by sponsors from the driver's homeland, the 23-year-old's career having been supported long-term by the Telmex communications group.
However when it was put to him that the signing of Perez represented a change in direction for the team in terms of driver recruitment, Mallya bristled at any suggestion that Perez's presence was directly linked to a budget and stressed "there is no package with [him]".
Mallya made no secret of the fact that the driver's arrival would inevitably open up commercial opportunities in the Mexican and Latin American markets, but made clear that such considerations weren't behind the decision to hire Perez.
"We haven't chosen any one of our two drivers because of commercial backing at all. That's against my basic philosophy," he added.
"His presence opens up a whole new opportunity for us which we will exploit going forward but it wasn't a pre-condition for us having selected him."
Indeed, the Indian businessman, whose team was linked to PDVSA-backed Pastor Maldonado towards the end of the season, revealed he had turned down approaches from budget-laden drivers in the past.
"I don't believe in the pay driver concept. I had many opportunities in the past to take pay drivers. I was offered a lot of money, I said absolutely not," Mallya stressed.
"I will not compromise the quality of driver for money. I will not let down all my people in Silverstone who are so passionate about designing and building a competitive race car and then compromise that car on the track by taking a driver who's not the very best because he brings money to the table. That is something I will just not do, it is against my basic philosophy."
And despite Perez's single season at McLaren not working out, Mallya believes his new recruit has all the key assets required to prosper in his new environment.
"Sergio is naturally talented and naturally quick, that was pretty clear when he drove for Sauber. I am sure that was one of the reasons why McLaren picked him up," the Team Principal said.
"At McLaren, I watched his performance versus former World Champion Jenson Button. I also know in the final race in Brazil he nudged out both Paul [Di Resta] and Adrian [Sutil] to get ahead. So he's a gutsy guy and that's what we need. He's hungry, that's what I need. I hope this combination is going to work well."