Vijay Mallya reveals he spoke to Nico Hulkenberg about returning in March
Force India boss offered 2014 drive to German at Malaysian GP
By William Esler
Last Updated: 18/12/13 4:33pm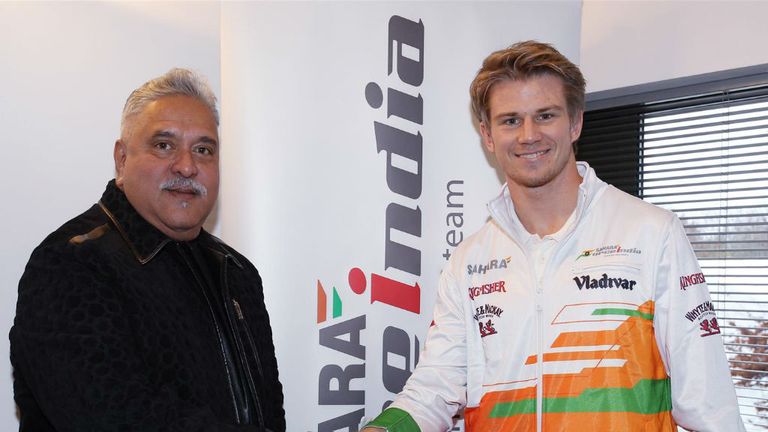 The German driver left the Silverstone-based team at the end of the 2012 season, but after just one year with Sauber he will return to the Indian tycoon's team for 2014 where he will partner Sergio Perez.
"I've always had my eye on Nico Hulkenberg," Mallya told the official F1 website.
"I told him as early as Malaysia, 'Nico, if you decide to change from Sauber you better come back home.' He said, 'Alright, I promise you. If I decide to change, my first option will be with you'. He stuck to his word - he told me he wanted to move and I said fine. Yes, I'm sure Nico talked to other teams, but at the end of the day, true to his word, I signed him up.
"I feel happy because he's driving for me. I could have retained either one of our existing drivers, but at the end of the day we've had long relationships with both, including Adrian Sutil who had a one-year break but came back to us. I consulted my other team members and they all said that we've got a new car and a new set of regulations, so let's get a new set of drivers who have got fire in their bellies and are really hungry. Sergio and Nico fit that bill."
The 58-year-old is hopeful his new look line-up can help Force India make a substantial step forward next year when the F1 playing field is reset by the new regulations.
"We're throwing everything we possibly can at the design of the 2014 car and we were one of the earliest teams to sign a full powertrain package (with Mercedes), so all these things are helping and hopefully will work to our advantage," he added.
"There's a huge amount of passion and a lot of talent in Silverstone, but more importantly there is a commitment and a hunger to succeed.
"I think the fact that we've signed two of the finest young drivers in Formula 1 is a reflection of our own attitude. All the designers, engineers and everyone else at Force India feels the same way as our drivers: we are hungry, we're out to prove a point."
Force India finished the 2013 season sixth in the Constructors' Championship, 45 points behind McLaren.