Podium chance for Kobayashi
Kamui Kobayashi, who lines up third for the Chinese Grand Prix, sees no reason why Sauber cannot score a second straight podium.
By Mike Wise in Shanghai
Last Updated: 14/04/12 3:57pm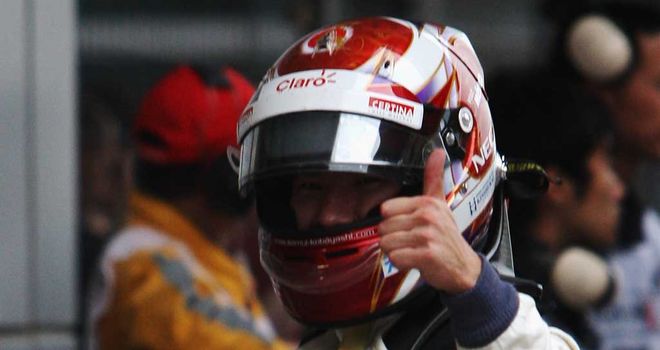 Kamui Kobayashi sees no reason why Sauber cannot score a second podium in as many races after earning his best qualifying result yet at the Chinese Grand Prix.
The Japanese set the fourth fastest time in the third session but will line up third owing to the gearbox penalty picked up by Lewis Hamilton.
Team-mate Sergio Perez, who came within a whisker of winning the Malaysian Grand Prix two weeks ago, starts eighth in what was a strong performance by the Swiss team.
Speaking after qualifying, both Fernando Alonso and Ross Brawn recognised Sauber's potential with their C31 chassis having shown well in both races held so far.
Until now, its performance on Saturdays has been a different matter and Kobayashi thinks they can land another big points haul provided everything goes to plan when it matters most.
"I'm starting P3 so it's a different feeling, but most important we have to be grounded and see what we can do," he said.
"We are pretty good on high fuel normally, so I think of course we have a chance of a podium. But it's most important we don't lose - we don't mess up - I mean by mistakes.
"I think it's important we use all the performance from the car and strategy and see where we are. I think that this is most important for tomorrow."
Target
Perez challenged Fernando Alonso for victory on a drying track at Sepang but Kobayashi thinks Sauber do not need to rely on wet conditions in order to achieve a good result.
When asked about the anticipated weather for Sunday's race, the 25-year-old replied: "I didn't see the forecast. I think some people said there's a chance but I think for us in the wet conditions we are quite okay, we are quite competitive. Actually, we're not really worried about that.
"Basically, I think we have to do it without a mistake, the race, and try and see good performance from the car. This is the target."
Whilst saying he thought Sauber's C31 was capable of a good performance this weekend, Kobayashi admitted that P3 was still a surprise.
"We didn't expect so much to improve. To be in P4 and start in grid P3 is something special for us. Usually we are good on race pace but we've never had a really good pace in qualifying, so this time we have to see," he added.
"We've had a good car this week. Maybe we've had P6 and P7 and this is the best result what we expected. It's more than expected for sure."