Hamilton - It's almost over
Lewis Hamilton said that the world championship race was ¿almost over already¿ after Sebastian Vettel¿s latest victory.
Last Updated: 26/06/11 6:03pm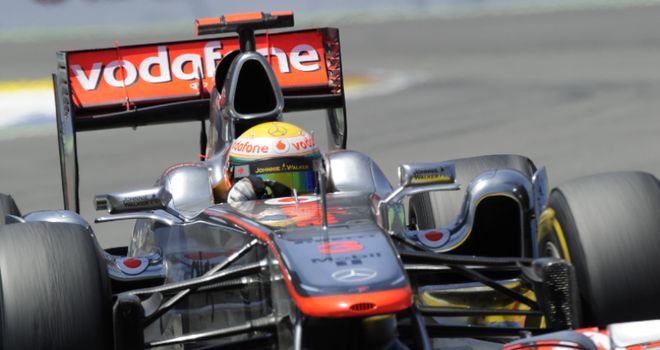 A downbeat Lewis Hamilton said on Sunday that the 2011 world championship race was "almost over already" after Sebastian Vettel's latest victory.
Vettel's win in the European Grand Prix was his sixth in eight races and enabled the defending world champion to pull 77 points clear of second-place drivers Mark Webber and Jenson Button.
Hamilton, meanwhile, lies a further 12 points adrift of his McLaren team-mate after finishing a distant fourth place in Valencia.
The 2008 world champion never recovered after falling from third place on the grid to fifth on the opening lap and later struggled with his tyres in the intense heat.
Although Hamilton was able to score points - something he failed to do last time out in Canada after a collision with Button - he was more concerned with Vettel's clear superiority after the race.
"It's finished really, in the sense of the championship it's almost over already," Hamilton lamented.
Poor start
Of his race, he said: "I got a poor start and lost out to both Ferraris.
"After that, it was a long race - the team asked me to stay out for as long as I could, and I was pushing all the way, but I struggled with oversteer and to be honest didn't feel totally comfortable with the tyres.
"To be able to finish fourth is still a good result though - and 12 points is a decent haul after the last two races - so I can't really complain.
"However, in terms of performance, we weren't as quick today as we've been in the last three races."
Hamilton said that McLaren had taken a backwards step relative to Red Bull and Ferrari and admitted that he was "really not looking forward" to the British Grand Prix in a fortnight's time.
Button, who won in Canada last time out, could only finish sixth in Valencia and called on McLaren to improve their performance for Silverstone, whose high-speed corners appear to favour Red Bull.
"New parts are coming but we need to take some risks," he said.