McLaren unveil the MP4-27
McLaren have launched their MP4-27 car as they seek to challenge the dominance of Red Bull this coming season.
Last Updated: 01/02/12 10:55pm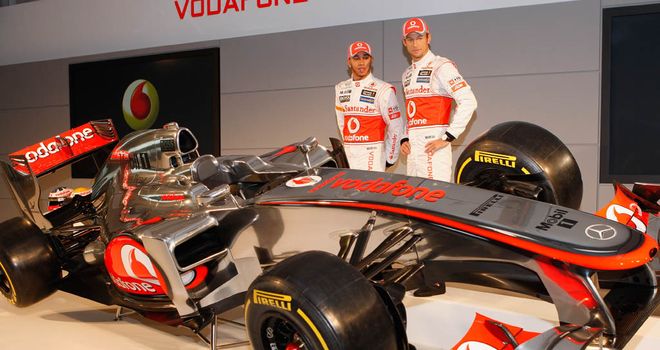 McLaren have launched their MP4-27 car as they seek to challenge the dominance of World Champions Red Bull this coming season.
In an unveiling broadcast live by Sky Sports News, Lewis Hamilton and Jenson Button were on hand to pull the wrapping off the new chassis at the McLaren Technology Centre in Woking.
"I think the car is probably the most refined-looking car we've had for some time now, so I'm very excited to get back into it," Hamilton said.
Although at first glance the car can best be described as an evolution of last year's, there are obvious changes, notably in the nose and sidepods.
"We've changed the sidepods. We had the L-shaped sidepods last year but the car is generally the same," Hamilton explained, in reference to the distinctive sidepods on the MP4-26.
"Obviously the nose is a little bit different to last year," he added. F1 rules in 2012 stipulate a lower nose for safety reasons, although the MP4-27 does not have the step that, for example, the Caterham launched last week carries.
Hamilton, who was involved in a number of accidents with Ferrari's Felipe Massa last year, also said he was happy the car had new wing mirrors.
"We've changed the wing mirrors a little bit, so hopefully we'll be able to see a lot better," he quipped. "Felipe will be very happy with that."
Neater
With blown diffusers effectively outlawed for 2012, Hamilton also said that McLaren had concentrated on the rear of the car in an attempt to claw back lost downforce.
"Particularly, the back of the car is a lot neater than it was last year. It's much, much tighter so the focus has been on making it as tight as possible to improve aerodynamics," he said.
"The wing is a little bit better in terms of drag and we've tried our best to improve the rear floor, especially with no blown diffuser this year. It's going to be very tricky for us - we'll lose a lot of downforce.
"When we were off power last year we had an incredible amount of downforce with the exhaust blowing and we don't have that this year.
"It's the biggest loss for us and we're trying to regain it in all other ways, but I think the guys have done a fantastic job.
"It's a lot trickier to drive the way it is right now but I think that when we get to the season we will slowly begin to improve and find out where that downforce can come from."
Button, meanwhile, stressed that McLaren must "come out of the box and be strong" - a reference to their habit in recent seasons of making a relatively slow start.
Pre-season testing commences in Jerez next week and the 2009 World Champion, who will run for the first two days, said a strong showing was vital.
Confidence
"The important thing about testing is that it is what it says on the tin," he said. "Finding your feet throughout the days of testing before the first race, so you arrive at the first race with confidence in the people you work with and the car you're driving.
"We're excited. I'm sure every team is a little bit apprehensive when it comes to testing, but I can't wait to jump into the car."
With comment already being made that 2012's rule changes - particularly with regard to the nose - will lead to a number of 'ugly' cars, Button also predicted the MP4-27 would be one of the better-looking of the bunch.
"It's a beautiful car," he added. "Many of them you see will not be."
Technical director Paddy Lowe later said that first appearances might indeed be deceptive.
"This car looks quite similar [to last year's] but underneath there's a great deal of change," he said. "And when you add that up, you have a car that is quicker. We have done a lot of work round the back end, it's a lot tidier there."