Lewis happy with new-look car
Lewis Hamilton was all smiles as McLaren revealed their MP4-27 - but thinks Felipe Massa will probably appreciate the new design most.
Last Updated: 01/02/12 6:06pm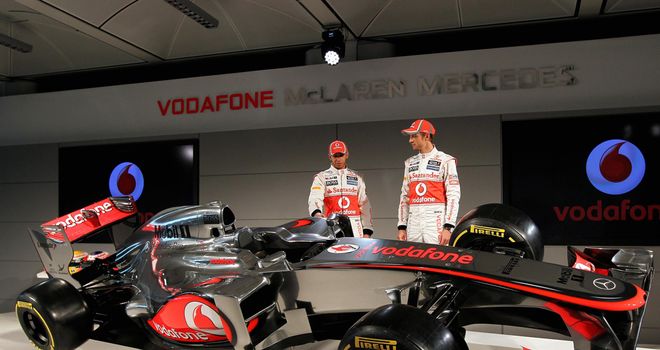 Lewis Hamilton was full of smiles as McLaren revealed their MP4-27 - saying last year's nemesis Felipe Massa will probably appreciate the new design the most.
Hamilton stepped onto the staging at Woking looking relaxed and happy as himself and Jenson Button took the covers off their 2012 car.
And first impressions were that both were happy with the look of the MP4-27.
"Massively motivated for next year," said Hamilton. "We have a good-looking car and generally when you have a good-looking car it is a good car too.
"The nose dips down a little bit to last year and they've changed the mirrors so hopefully I'll see a bit better than I did last year.
He added with a smile and a laugh: "Felipe will be very happy with that."
Snug
The nose and mirrors, though, are not the only changes; for this year's Championship, the blown diffusers have been banned meaning teams have had to find other ways to make up for the lost downforce.
"It's snug at the back to improve aerodynamics," said Hamilton.
"Without the blown diffuser we lose an incredible amount of downforce. So that's the biggest loss for us and we'll try to regain it in other ways.
"I think as we get into the season we'll improve and find out where that downforce can come. But I think the guys have done a fantastic job."
The former World Champion, who had a trying last season when his on-track performances suffered as a result of his off-track problems, is relishing his sixth season with McLaren, hoping that it will be yet another year of fighting at the front.
"It feels strange to say this is my sixth season. It feels like it was only yesterday that I went to Ron (Dennis) and said I wanted to race for his team.
"We've been competing at the front for all those years, we have a great team, incredible strength and depth."
No rush
Hamilton also told Sky Sports News that there was "no rush" as regards his contract with McLaren, which expires this year.
"I'm quite comfortable where I am and I think the team are keen to re-sign us. We're just putting all the focus into making sure we're ready for the season," he added.
"I think that definitely after we get the first few races out the way it's important to try and tie that up, to give the team confidence and clarify my intentions and my desires - and where I want to be standing in the future."