Whitmarsh: No repeat of 2011
Martin Whitmarsh has said McLaren are not expecting a repeat of last season's pre-season problems with their new MP4-27 car.
Last Updated: 01/02/12 3:37pm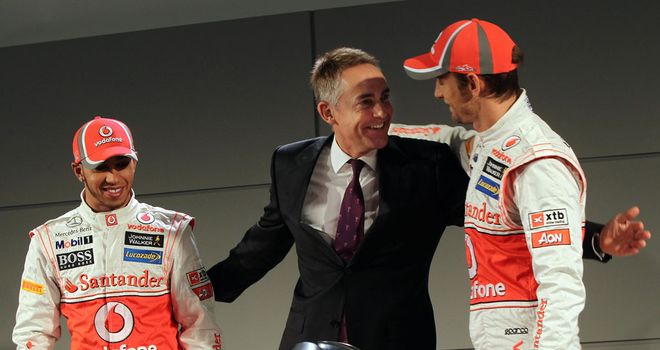 McLaren team principal Martin Whitmarsh has said they are not expecting a repeat of last season's early problems with the new MP4-27, even though he insisted their design approach has not been conservative.
The Woking team unveiled their new car on Wednesday, with Whitmarsh hoping to avoid a repeat of 2011's "abysmal" pre-season tests, when McLaren struggled with a new exhaust system.
It became so problematic that McLaren opted for a complete overhaul just two weeks prior to the opening race. Although they found plenty of performance as a result, they still struggled compared with Red Bull and Sebastian Vettel.
"This year we have not been cautious but we have found some good performance," Whitmarsh said.
Tough targets
"We have set ourselves some tough targets that if we reach we think we can fight for the Championship. We haven't reached those targets yet, but with some work we will do.
"We won't know until qualifying in Australia where this car is.
"We had, by anyone's standards, let alone McLaren's standards, an abysmal testing period last year. I would be happier not to fight those issues, and we have put a lot of work into this car and we are not expecting a repeat of last winter.
"I don't believe we have been inherently conservative. Inevitably there are creative brains seeking to find a Eureka moment that will bring seconds of performance, but sadly in F1 those moments are limited."
Whitmarsh said the car taking to the track in Melbourne next month will be different from that unveiled at the McLaren Technology Centre.
"All teams will develop the cars so the car unveiled as they pull the cloth back is not the car being used in Q1 in Australia. There will be great evolution in some teams," he explained.
"We have set targets that are tough. It is not just about testing or the first race, you have to improve the car through every single race if you want to win the Championship. Providing we have a good car at the start of the season then we should do well."
Frustrations
As for his driver line-up, Whitmarsh brushed off suggestions that any rivalry between Jenson Button and Lewis Hamilton could hamper his team's efforts.
"We don't like losing or coming second and the last two years have had their frustrations," he added.
"But we've two drivers who are fierce competitors, they want to beat each other very badly, yet they spur each other on."