A chat with Ted about the McLaren launch
Ted Kravitz takes us behind the scenes at the McLaren launch...
Last Updated: 02/02/12 11:31am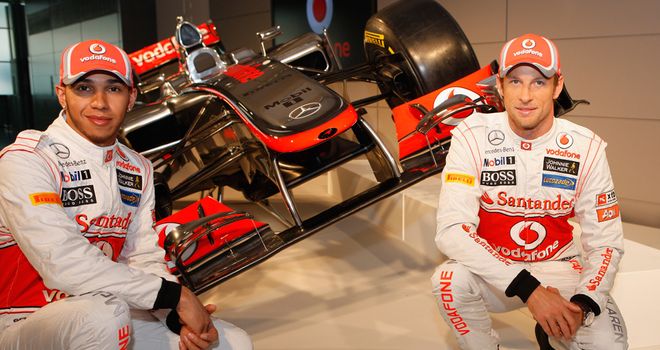 Jenson Button is back at work, Lewis Hamilton is back at work, and so too is Ted Kravitz, with the Sky Sports F1 HD reporter and F1 Show presenter in busy attendance at the launch of McLaren's keenly-anticipated MP4-27.
So once he had finished asking questions of Jenson and Lewis, we stepped in to ask Ted about the answers he received on a highly revealing morning at Woking...
Before we ask for your first impressions of the MP4-27, what were you first impressions of the two drivers?
Ted: Jenson Button was exactly how you would expect him to be. He was very relaxed, had a glint in his eye and a healthy tan, and looked just like someone who had a great time over the winter - which he did. He's in fine fettle.
And how was Lewis?
Ted: Well, that's the interesting thing. Lewis looked very much like the Lewis we said goodbye to Brazil. A little reserved, a little softly spoken and not as confident about the car as Button, even though Lewis said he was going for the championship and had a plan to achieve that this season - which I took to mean scoring consistent podiums throughout the year.
Hasn't he has just had two months off?
Ted: Yes, and I thought that was very interesting, too. Whereas Jenson was back at work on January 5, Lewis was given an extended break by the team, free from any commitments until a week or so ago. That in itself is quite revealing - that McLaren recognised he needed time off and time away to re-energise.
Has it worked?
Ted: Only time will tell. From the way Lewis was speaking, there seemed to be a certain apprehension, as if he wasn't quite sure whether he was back to his old self just yet.
Hence the apprehension?
Ted: Yes, because he's waiting to get started again. It's only when he's back on track and at the Grands Prix that he'll know if he has found his old self again.
He certainly seemed a little reserved...
Ted: Speaking to him away from the throng, he also made the point that he has been under pressure ever since he arrived in the sport in 2007. So he's had five years under the microscope and the impression I had from what he was saying was that he feels that pressure finally caught up with him last season.
No wonder he can't wait to get started again then?
Ted: Yes. He's had a chance to clear his mind and it will be nice, I think, for Lewis to start again this season. He feels he has been too hard on himself and he needs to take some pressure off himself.
Whereas Jenson is on the crest of a wave of course...
Ted: Indeed. Jenson was on great form and very chatty - so much so that he was giving us such long answers that when his publicity advisor was trying to take him away he just carried on saying, 'Nope, I'm giving long answers because Sky Sports have a lot of time to fill on their new channel!'.
And what was he saying about the season ahead?
Ted: That the team's focus is on Red Bull and the challenge ahead. He knows that there is no way, after three years of success, that Red Bull will put out a bad car and they are still the team to beat.
Is he confident?
Ted: He says he feels ready for another World Championship and that he can be the champion again this season.
So that's a yes then!
Ted: Well after the way he finished 2011, who would bet against him? But Jenson was also keen to point out that it's one thing catching up the Red Bulls in qualifying but quite another after that to overtake them. He knows there's a lot of hard work to be done.
So what was your first impression of the MP4-27?
Ted: A pleasant surprise after all that was said last week following the launch of the Caterham, that it's a pretty car.
Yes, how have they managed to do that? The consensus of opinion last week was that all the 2012 cars would be ugly.
Ted: They've done it by lowering the front suspension mounting points, meaning they don't need to have the sort of 'step' like we saw on the Caterham. It fits with their aerodynamic philosophy in terms of how to best use the airflow to the back of the car. To repeat the phrase that plenty of McLaren people were using on Wednesday: 'There are more ways than one to skin a cat'.
But will it work?
Ted: We'll see, but one thing McLaren have clearly tried to prioritise with their new car is balance. The feelings from the drivers last year was that sometimes their car wasn't particularly well balanced and when the tyres overheated, it was a difficult car to drive. What Jenson and Lewis both wanted was a car they could do more with this year.
People are already saying it's a conservative car though...
Ted: What we've seen so far is McLaren's launch-spec car. By Melbourne, it may look very different - there are already plenty of new parts in the pipeline. McLaren will use the first test at Jerez as an opportunity to put some miles down. They will only start putting on the new performance packages on for the third test in Barcelona, which is when they will find out about its pace. So don't be surprised if Lewis and Jenson are not quickest in the first two tests - we'll only see what they really have at the start of March.
So what was the mood around McLaren then?
Ted: Hmm, good question. My gut feeling is that they think they have produced a solid car - it certainly looks a lot like last year's. Lewis spoke quite a bit about how the team exploited very heavily the blown-diffuser concept - arguably more than Red Bull ever did - and I wonder if there's a fear that they will lose too much downforce and therefore some of their competitiveness without it.
And will it?
Ted: It might. We know Ferrari and Mercedes will be there or thereabouts, too. Only time will tell - or the third test.