Button thwarted but still happy
Jenson Button is happy with McLaren's updated car despite being unable to put it through its paces properly on Saturday.
By Mike Wise in Barcelona
Last Updated: 03/03/12 10:26pm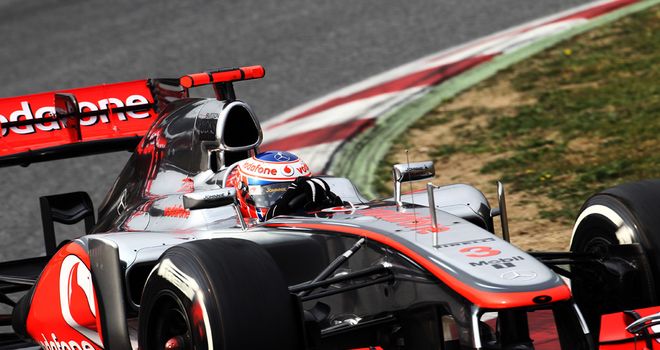 Jenson Button said he is happy with the updates McLaren introduced to their car on Saturday, despite being unable to put them through their paces properly.
The MP4-27 appeared on track at the Circuit de Catalunya sporting a new nose, although Button was thwarted in his attempts to improve the car by both a hydraulics problem and the arrival of rain during the afternoon.
Button, who still ended day three of the final pre-season test second fastest behind Sauber's Sergio Perez, said the updated nose felt like a step forward but he will not now be able to try the car again until opening practice in Melbourne.
"Today was the day that we put the new updates on the car and immediately when we put it on the car felt much better," he said. "There were some areas where we were lacking in the car but we knew would become better when we put the updates on.
"I did two runs this morning, both runs were very difficult because we had issues with the hydraulics but we wanted to get some running in to collect some data for the new package.
"We had two hours plus of downtime before lunch. So we lost a lot of the day, especially the good part of the day when it's a good temperature and no wind - and we missed all of that.
"After lunch, we went out and did some short runs basically comparing tyres and the car felt pretty good. But the problem is that we didn't want to change the set up too much because we were comparing tyres. So we were just about to get into the set up work and then it started raining.
The new nose does away with the T-shaped splitter hanging down beneath it in favour of bargeboards on its outer edges.
Button noticed an immediate shift in balance but said that a total of 44 laps were not sufficient to work through the necessary set up changes.
Bad luck
"We didn't progress with our package today. That was due to a bit of bad luck with the weather and an issue this morning, but it's a definite step forward and I'm very happy with what we've achieved with this package - the upgrade we've got here today - but we weren't able to progress with it and really get a perfect set up," he said.
"Hopefully tomorrow Lewis (Hamilton) will have a get a nice, clean day - good running - and we can progress with it, because there's still more to come with it. The feeling is positive - I'm happy with the direction we've taken."
Of McLaren's rivals, Button thinks that Ferrari and Mercedes are currently suffering with tyre degradation, although he also predicted that it would improve when the season starts.
Meanwhile, he reckons that Red Bull - who also launched upgrades on Saturday - are sandbagging and also thinks that Sauber's progress is promising.
"I watched Fernando (Alonso)'s long run yesterday and he did nine laps on a set of tyres - that's big degradation. The same with Mercedes, they seem to be struggling with it - (but) I really do think it will be a lot better when we get to the first race. I hope it isn't because I think we're quite strong in that area," he said.
"If you look at the times, I think there are a few people that stand out that are very impressive. I think one is (Sergio) Perez because he did his time on softs - I think most people did it on supersofts. We also noticed that at the last test: (Kamui) Kobayashi did a 22.3 on softs, which is a very good time.
"They've done a great job and they've got reliability, so it's good to see some smaller teams are competitive. We just hope they're not too competitive.
"I think the Red Bull...my opinion is that they're running quite a bit of fuel. They have a new package today and I think they've made improvements as well. But as always Red Bull don't want to show their hand, so I think they're running quite a lot of fuel on board.
"We don't know how much - it's all a guess, so it's better just to concentrate on what we're doing."
Upbeat
Despite his mixed fortunes on Saturday, Button is nonetheless upbeat compared to 12 months ago, when McLaren struggled pre-season with an exhaust system that needed a hasty redesign.
"I'm just a lot happier with everything. We're not running round, scratching our heads and wondering what we've done wrong," he added. "Last year we had problems with the exhausts in terms of cracking and we also had the problem that we just weren't very fast - even when the exhaust did work.
"It was a very difficult winter and you just can't do any testing. If you have one reliability issue, you can't take all the other parts of the car to their life - so you have other reliability issues and you worry about that at the first race.
"I'm much happier with where we are but you always want more testing, especially if something goes wrong like today."
Hamilton takes over for the final day of testing, when it is anticipated that McLaren will introduce further changes to their car.