Hamilton seeks redemption
Lewis Hamilton has attempted to shrug off his Australian GP disappointment by insisting that he can win the title in the MP4-27.
Last Updated: 22/03/12 6:38am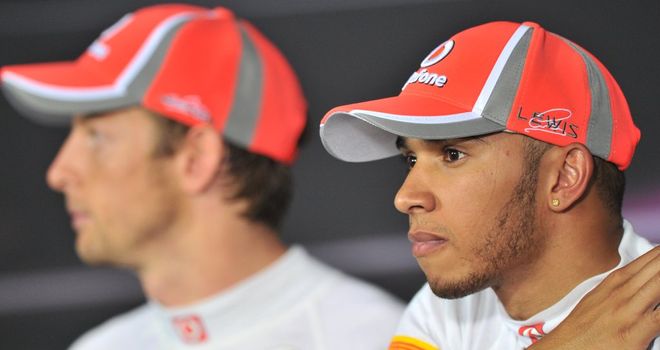 A defiant Lewis Hamilton has attempted to shrug off his Australian GP disappointment by insisting that he can win this year's World Championship in the MP4-27.
Having cut a disconsolate figure in the wake of his defeat to McLaren team-mate Jenson Button in the first race of the season, Hamilton has belatedly cast aside his frustration in favour of appreciating the capabilities of a car that was more than a match for the Red Bulls in Melbourne.
"I know this is a car I can definitely challenge for the title with," Hamilton said. "Jenson proved it. He had a fantastic race and it's definitely a good start to the year that both of us finished on the podium and in the points.
"We appear to be the team to beat, which is a good sign. The team have been working hard for that. It's definitely the position to be in, and we're strong which is also a good place to be.
"As for me, I definitely do feel as though I've got it in myself to go for the title. I feel as ready as ever. I was ready on Sunday, it's just that some things didn't go my way."
With the first two races of the season back-to-back, Hamilton will be given an immediate opportunity to make amends for his subdued performance in Australia when the F1 circus moves on to Malaysia this weekend.
"I definitely plan to redeem myself," he vowed. "It's about making sure I start off the weekend in the right way, as I did last weekend."
But the McLaren driver has warned that the team still have plenty to prove on a circuit which is widely considered to provide a more accurate reading of the pecking order than Albert Park.
"We can't get too carried away with it because even Ferrari were quick in Sunday's race. As for the Red Bulls, they look as though they have less tyre degradation than us, maybe.
"So it's too early to tell. In qualifying, we were massively quick and competitive but they were massively quick in the race.
"They are still a force to be reckoned with. I guess we're just an edge ahead, but we can't get too complacent.
"We'll look ahead with increased confidence. We just need to get more one-twos, but we're there. We're as quick as them at least.
"Malaysia should be a track where we should be quick again. Let's hope we can get a one-two there."