Jenson Button is looking forward to becoming McLaren's senior driver in 2013
Ex-champion says lead role will bring out the best in him
By James Galloway
Last Updated: 12/12/12 11:54am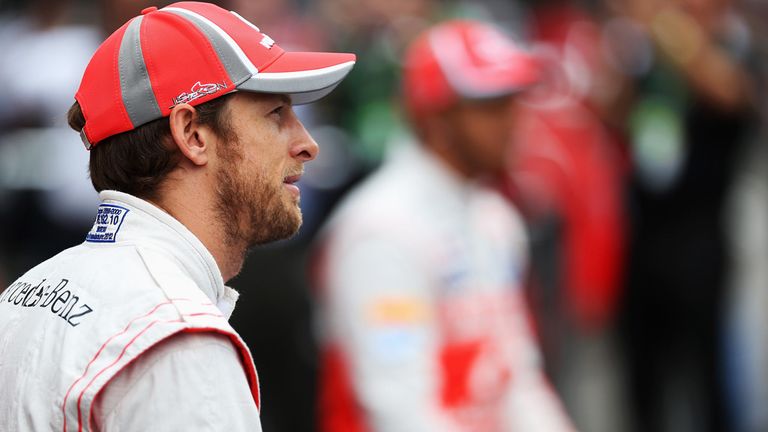 The 32-year-old former World Champion is inevitably set to take on more responsibility at the Woking team with the arrival of Mexican youngster Sergio Perez, who is ten years his junior, and Button has previously told Sky Sports News that he expects to have the chance over the winter to mould the MP4-28 to suit his driving style more.
And the Briton, whose previous team-mate prior to joining McLaren was the vastly-experienced Rubens Barrichello, says the position of senior driver is one is going to relish.
Asked if he was looking forward to leading the team: "Definitely. It's not the first time I've done that. When I got to BAR and Jacques [Villeneuve] left it was exactly the same situation.
"I was there to lead the team and it's something I really look forward to and it's something where the best comes out of me in that situation.
"I can really build that team around me and direct the team in a direction I like with the car."
Button concedes in the closing weeks of the season that 2012 had been the most difficult of his three seasons for McLaren, with mid-season problems with tyre temperatures having scuppered any hopes of a championship challenge.
The 15-time grand prix winner admits that as he needs a car tailored to his smooth driving style, he can "struggle more than some" when the set-up isn't quite spot-on.
"We all drive differently and have different styles," he said. "For me I need a car I can develop beneath me and feel comfortable in. "If the car feels neutral and unbalanced it doesn't work for me.
"I need to develop a car and engineer a car in a position that feels comfortable for me, and I don't think anyone can do a better job than I can in that position.
"The problem for me is if I can't get the car there I do struggle more than some."