Sky Sports Exclusive: Sam Michael Q&A
McLaren's Sporting Director on the team's new car, life after Lewis at Woking, and their expectatons for the new season.
By Mike Wise
Last Updated: 12/04/13 7:25am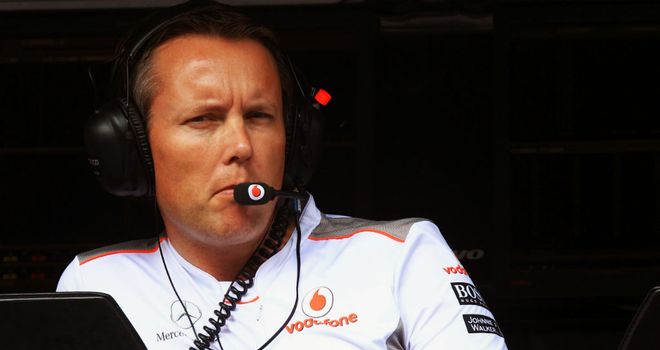 There's no doubt that McLaren will be looking to up their game this year after a frustrating 2012 season which saw them finish third in the Constructors' Championship despite frequently having the fastest car.
That car has been heavily revamped this season, with changes also coming thick and fast off the track. Lewis Hamilton has joined Mercedes, of course, while Technical Director Paddy Lowe will also join the Silver Arrows for 2014.
But what of 2013? Why is the MP4-28 markedly different from its predecessor? And after last year's difficulties both on track and in the pit lane, what are McLaren doing to try and cut down the error count? Sky Sports Online spoke to McLaren's Sporting Director Sam Michael at the final pre-season test in Barcelona.
McLaren have a new Technical Director. Is the fact that the change has come so close to the start of the season unsettling in any way?
SM: "Yes, we do have a new Technical Director in Tim Goss and Tim has done all the technical development of the 2013 car and done plenty of cars before that. He's an extremely capable individual and has been with McLaren for many years. He's part of the structure of people that, when we mention the words 'strength in depth', Tim is part of that. And I think one of the great strengths of McLaren is that when something like this happens, you can rely on a lot of people to keep the team pushing forward.
"It's definitely a natural fit for Tim to do that role and because of that, it hasn't really changed anything in the short-term. Paddy was an incredible asset to the team as well. He did 19 years at McLaren and as well as being an extremely intelligent engineer, he's a close friend to many people - including myself - inside the business and his contribution to McLaren is significant. Because of that, everyone wishes him well. He's chosen to move on to different pastures for 2014 but that's life you know? That's what happens in life, so I wish him all the best with that.
"Paddy's an extremely likeable character and when you combine that with intelligence as well, they're great people to know. As a company we're strong and we've a new direction under Tim but it's not a huge change from where we were. But at the same time we wish Paddy all the best."
In the context of a stable rule platform, McLaren's 2013 car has been described as a radical departure from last year's. Is the decision based on the long-term development of the car?
SM: "I guess there's two or three specific areas. Firstly, there's the pullrod front suspension - something Ferrari did last year - and there's a different rear suspension to help the rear of the car produce more downforce. Obviously our sidepods have changed and also our front of chassis has changed. It is quite a few changes for the last year of these regulations, which is why people describe it like that [a radical departure].
"However, our view was that even if it requires quite a lot of short-term work, which is what the aerodynamicists are flat-out doing - re-understanding the principal flows around those changes - it's worth it for the Championship fight this year. We got to the point with the MP4-27 last year that we thought, 'There's not enough left in this car to see us through the next 12 months. Let's go for a change'. It probably is one of the most changed cars on the grid when you look at all the detail that's there. But hopefully that will put us in good stead once the season starts getting legs."
People speak of 'design philosophies' and McLaren have now chosen one where more air goes under the car. Does that mean it's inherently better than the one you went with last year?
SM: "We believe it is. We believe everything we put on the car is better than last year. Remember, it's coupled with a suspension change on the front as well, which has gone from a pushrod to a pullrod. So there's a couple of changes there."
When was the decision made?
SM: "You pretty much have to fix your chassis these days by June, July time, so we were well into that by the early part of the European season."
So you could say it's a case of short-term pain in the early races for long-term gain?
SM: "Our target is to win the first race, so we don't plan on having any short-term pain. But inevitably we're doing more work than had we stayed where we were. But had we stayed where we were, we definitely would have gone a bit flat and been thinking we hadn't done enough. Whereas everyone's now got a feeling that we've definitely done enough and we've got to work hard to optimise it quickly. I'd always much rather come from that direction than the other one, because once you're fixed in for the year, that's it. You can't get out: you can't change the chassis height during the year; you can't change the sidepods around where the impact structures are; you can't change to a pullrod, not these days. So you're fixed for 12 months on that."
But the downside of that seems to be that there's so much more to understand. Jenson has said during testing that he's found it difficult to work on set-up...
SM: "Creating engineering challenges can never be described as a downside. That's only ever interesting and fascinating...that's what keeps us engineers alive!"
Can you outline what's in McLaren's pre-season upgrade package?
SM: "Most of the parts went on during Friday afternoon (of the last Barcelona test). There's quite a few bodywork changes that went on."
So all the upgrades for Melbourne are all bodywork?
SM: "No, not entirely."
I know teams can be reticent about these things...
SM: "That's because they change all the time. Because if I said, 'We've got a new rear wing', for example, there might be two reasons why we don't run a new rear wing: it might not have correlated well or something else happened in the tunnel that changed our understanding and that wing became obsolete very quickly. So we've learnt from past experience not to say what the actual upgrades are until they've actually done the grand prix."
Now Lewis has left McLaren, people have said that the team will design a car to suit Jenson Button's needs. How much input does a driver have in the design of a car?
SM: "The driver's most important input is telling what the balance is and what the changes are. When it comes to driveability and transient responses in the car, the driver's input is still quite important. You don't need a driver to say more downforce makes you go faster, more power, more grip. But when you change the car's handling characteristics, or the way it warms its tyres up, for example, that's where you need the driver. And a driver of Jenson's experience is pretty important. He's got a lot more experience than Lewis has - he's done more seat hours - and this is his 14th season.
"It's those areas that they help contribute on and you can't underestimate as well the football mentality side of things: they're there to motivate and inspire and gee up the engineers and mechanics. We're humans and if a driver can talk on different levels, about his life and what his aspirations are and say, 'Come on guys I really want to win this race' then that motivates people to push harder.
"They're a figurehead and will always be more inspirational than an engineer. We've got 600 people in our company and what everything each person does is ultimately on the shoulders of two drivers. We've got this massive funnel to these two guys and because of that, you've got a lot of emphasis on what they think and feel."
So Tim Goss would never go to Jenson and say, 'Tell me what you want and we'll put it on the car'?
SM: "He does, but he gets that through debriefs and listening to what the driver's saying about the balance of the car. He's not going to go to Jenson and say, 'Shall we do a pullrod or a pushrod next year?' He'll tell him what we're doing but the driver would never get involved with the decision because it's a technical decision based on metrics and understanding what the principal flow mechanisms are and what the trade-offs with stiffness are. It comes from calculation rather than a driver's feel."