Martin Whitmarsh admits McLaren made qualifying errors with both cars in Australia
McLaren left lamenting timing of tyre calls after disappointing qualy
By James Galloway
Last Updated: 17/03/13 1:55am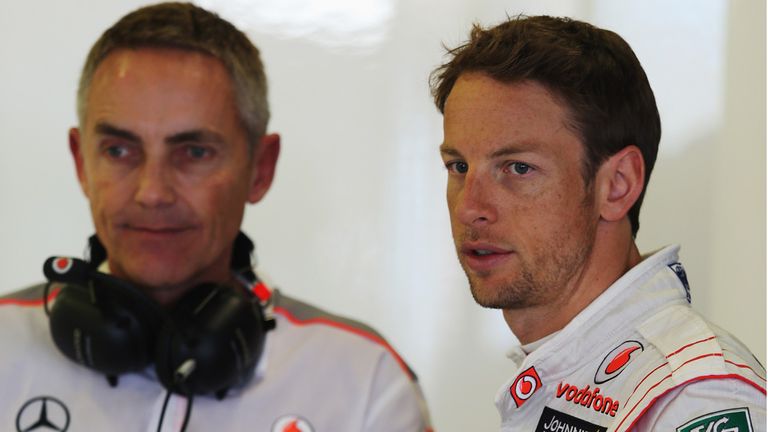 The Woking-based team's start to the 2013 season had already looked set to be a challenging one after a brutal realisation in Friday's dry practice sessions that their radically-different MP4-28 wasn't on the pace of their usual front-running rivals' cars, with their Team Principal Whitmarsh confessing to Sky Sports F1 that "certainly we are lacking pace" and had compounded their problems by making "some fundamental errors in setting the car up".
The damp conditions when Qualifying restarted on Sunday morning had appeared to offer McLaren some hope - yet they still lost one car in Q2, new signing Sergio Perez, after switching to slick tyres too soon.
Speaking to Sky F1's Ted Kravitz after the end of qualifying, Whitmarsh conceded they should have reverted to the intermediate tyres for the Mexican when he immediately pitted again after reporting a problem with his first set of slicks - rather than sticking with the supersoft compound - given how difficult Perez's opening foray on the same tyres had proved.
"I think first we took a risk with Sergio going on to a dry tyre. It was a very difficult call, I think clearly sector one, sector two, it was quicker on the dry tyre, sector three was still struggling on a dry tyre, but we took that risk," Whitmarsh confessed.
"Unfortunately there was some issue on that set of tyres - he thought it was a puncture - so we had to change so that put us on the back foot. With hindsight I think we should have switched back to the intermediate tyre, but we didn't.
"So that was a shame, it didn't come off for us, and it means that took us out of Q3 with Sergio."
McLaren had initially also switched de-facto team leader Jenson Button onto slick tyres in the closing stages of Q2, but the former World Champion's greater experience told when he made the call to immediately move back onto the intermediates, and once back on the wet rubber, the 33-year-old ultimately comfortably made it through to the final stage in fourth place.
By the start of Q3 the track was now ready for dry tyres and Button was duly the first of the remaining runners take to the track on slicks. However, after he slumped from an initial provisional pole to the very bottom of the top ten, Whitmarsh admitted that they sent him out too early in relation to everyone else.
"With Jenson then we decided to go for it on the dry tyre - the dry tyre was the right thing - but we put ourselves on the track and tried to get three laps, " he explained.
"But unfortunately the track clearly got quicker, it was clearly quicker right at the end, but the tyre had grained so Jenson wasn't able to go and realise the potential of the track at that very last critical stage.
"So decisions that were made in very difficult situations but didn't quite come off and made a challenging afternoon for us."
The depressing nature of the weekend thus far for McLaren, winners of the final two grands prix of last season, has already served to crank up the pressure on the team which is bidding to end its wait for another World Championship this year.
Asked by Ted if the fact they were struggling for pace in normal conditions in Melbourne meant they were taking more risks to try and combat that, Whitmarsh admitted they probably were, but stressed that the ultimately wrong calls in qualifying were knife-edge decisions.
"I think inevitably if you're not as competitive as you want to be you take bigger risks, so I think that probably had some influence on it," he added.
"But it's very difficult to know on a green, drying track if you get onto the option tyre how quickly you can get it turned on, because you can't always get it turned on on the first lap, sometimes you need two or three laps to get it fired up. In this particular case it would have been better to have been on your second lap, or even your first lap, at the dying phases of Q3.
"You can see that now but at the time we took the decision and thought 'let's give it three laps', but unfortunately they were past their peak."