Jonathan Neale says McLaren 'on the right track' and hopeful over China upgrades
Team poised for "very busy" Friday Practice in Shanghai
By James Galloway
Last Updated: 09/04/13 6:42pm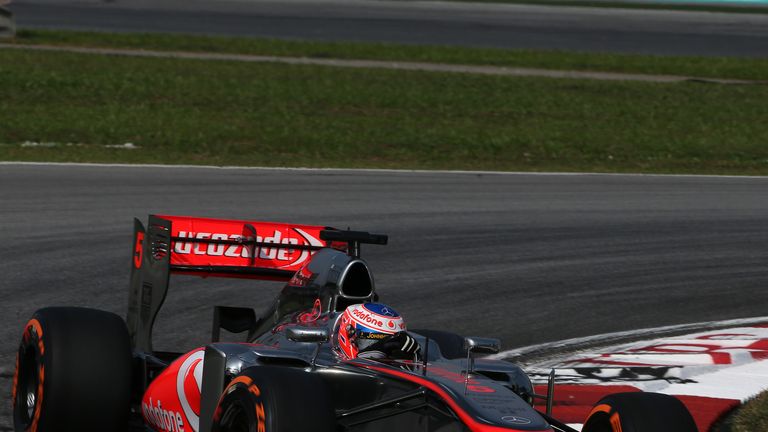 The former World Champions head into this weekend's Chinese GP on the back of a particularly busy three weeks of work at their Woking factory in which they prepared what Sky Sports F1 analyst Mark Hughes described as a "major engineering upgrade" of the underperforming car.
The MP4-28's early-season woes are believed to have been traced to an aerodynamic issue centering around the car's underfloor, and speaking to journalists on Tuesday, Neale, McLaren's Managing Director, confirmed they were taking "a number of upgrades" to Shanghai and that drivers Jenson Button and Sergio Perez could therefore expect a "very busy" Friday practice as they tried out the parts on track for the first time.
"I believe we do know where the problems on the car are but in order to be absolutely sure about that we need to run the package that we're going to run in China," Neale said during a Vodafone McLaren Mercedes phone-in.
"So the work on Friday is a very key element to it. As always with cars, there's no one thing or one magic bullet, there are a number of things that will restore the performance of the car.
"And we believe that we've got an underlying very good package, but it's clearly not the performance that we predicted.
"So I think if you asked that question at the end of the Chinese weekend we'd have more confidence but we have a great group of people, everyone's working very hard and we've been buoyed by the effort and the hard work of Sergio and Jenson who have been tremendously tolerant and hard working for us both in the car and out of the car.
"I certainly believe we're on the right track now and we do have an idea where the problems are."
Despite scoring just two points in the opening pair of flyaway races, and already being 38 points behind championship leader Sebastian Vettel, Button insisted last week that the team could work their way into title contention after an encouraging initial step forward in pace in Malaysia.
Neale insists the prospect of winning races again isn't too far away for McLaren and is aware that history has certainly shown that teams can recover from poor starts to seasons to challenge for the championship.
"It's a long season as everyone knows and here we are in the first half of April and we're going to race through until the end of November," he said.
"We've seen in previous years teams start with a car that wasn't on pole position but fight it out for a championship right at the end.
"Everything that we're doing here is designed to put us back into, first of all, winning form because we are about winning races - that's why McLaren exists - and I think if we can get on that quickly, and there's no reason at the moment why we can't, we should be fighting through the championship.
"It's obviously not an ideal start, we can't shy away from that, but I believe in the team and I believe in this car at the moment. So let's push on and see what happens."