Jenson Button and Felipe Massa insist F1 is even better thanks to the Pirelli tyres
McLaren and Ferrari rivals unite to defend 2013 rubber
By Pete Gill
Last Updated: 19/04/13 9:53am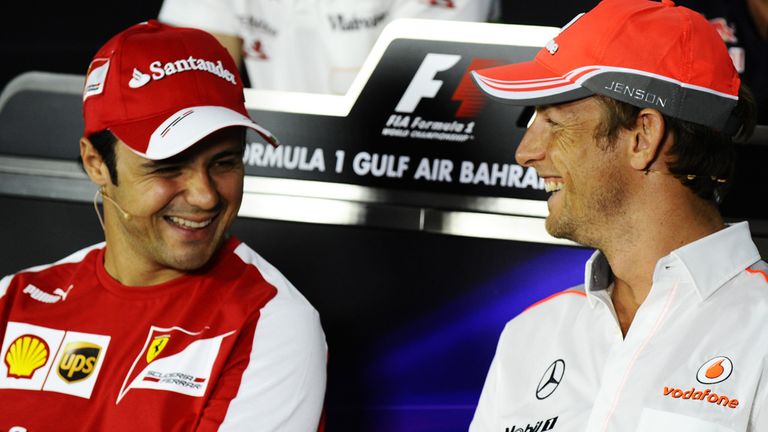 Tyres, tyres, tyres. There's just no escape from the Pirellis in any discussion around F1 at the moment. As divisive off the track as they are brittle on it, the 2013 tyres are the talk of the F1 town and splitting opinion like nothing else.
On the one hand, the purists remain in a state of angst about fast-degrading rubber which, in their eyes, is producing a demeaning, artificial product.
On the other, a minimum of nine changes of lead in each of this season's three races and a closely-fought battle for top honours between Red Bull, Ferrari, Mercedes and Lotus while the cream is still rising to the top in the Drivers' Championship. What's not to argue with there?
And while the means may not be to everyone's taste, it is the end product which Button - the field's most experienced driver following the retirement of Michael Schumacher - was keen to highlight in Thursday's Drivers' Press Conference ahead of this weekend's Bahrain GP.
"We are not going to be happy with everything in this sport, or in any sport, but I think the racing has been good fun. I was on the receiving end of it in the last race because I was doing less stops and running old tyres most of the race, but if you were doing a three-stop it seemed like it was a pretty fun race and they were able to push pretty hard," observed the 2009 World Champion.
"In the past, we had tyres that would last the whole race and there wasn't any overtaking. It's very difficult to get the balance right, but we are having two or three stops, which I think is what the idea was for racing in 2013, and there are a lot of teams fighting at the front.
"I think Formula 1 is great at the moment."
Rivals on the track they may be, but it was a viewpoint enthusiastically endorsed by Massa.
"From a driver's point of view, for sure the situation is not always easy when you have to save tyres and sometimes our life is difficult. But when you are at home and looking, I think the race is very nice to see now - and much nicer than in the past," said the Ferrari driver.
"Many people are complaining about the Pirellis but I think they are taking a good direction for the sport."
But that's unlikely to be the final word in a saga which, ironically, shows no sign of any degradation just yet.