Martin Whitmarsh denies Lewis Hamilton 'thrown out' of McLaren's garage at Jerez
McLaren chief says ex-driver "slightly naive" to wander into garage
Last Updated: 21/04/13 2:25pm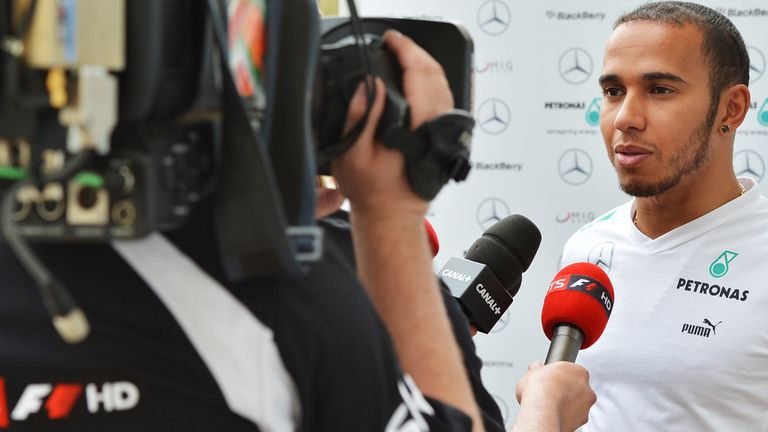 Hamilton, who brought his 14-year association with McLaren to a close at the end of last year after deciding to take on the challenge of joining rivals Mercedes, insisted prior to his departure that the Woking team would remain his spiritual "home" and he would be pop in to visit his former colleagues from time to time during the course of the season at the race track.
However, revealing his account of what would have been his first attempt to catch up with his old team at the opening test of pre-season during his first appearance as a Mercedes driver, Hamilton claimed he tried to visit their garage in Spain but was ejected by Sporting Director Sam Michael
"I went to see them in Australia. But I also tried to see them in Jerez, at the test, and there Sam Michael threw me out of the garage," Hamilton told the official F1 website.
"That wasn't very positive and I don't feel very good about that. Martin (Whitmarsh) has been great and I have to say that I haven't had enough contact, so I will give Martin a call."
His former team boss, however, has attempted to diffuse any tension by suggesting that while Hamilton was perhaps "naive" to think he could just wander into what is now a rival team's inner sanctum, he was welcome to visit them in their hospitality any time - as indeed he did at the season-opener in Australia.
"Firstly, Lewis is always perfectly welcome at McLaren and he knows that. He came to see us in Australia and he and I talked, so it's a little bit of a storm in a teacup," the McLaren Team Principal was quoted as saying by The Independent.
"I would never consider going into Ferrari's garage even though I have a very good relationship with team boss Stefano Domenicali. I suspect if I did that I would politely be asked to leave. It's the same for any competitor.
"I think Lewis was asked to leave in a good-natured manner in Jerez, and may have been slightly naive. But he is always welcome in our hospitality and other appropriate areas."