Jenson Button says he couldn't help but celebrate reaching Q3 at the Bahrain Grand Prix
McLaren driver taking comfort from "little achievements" for now
By Mike Wise in Manama
Last Updated: 22/04/13 11:10am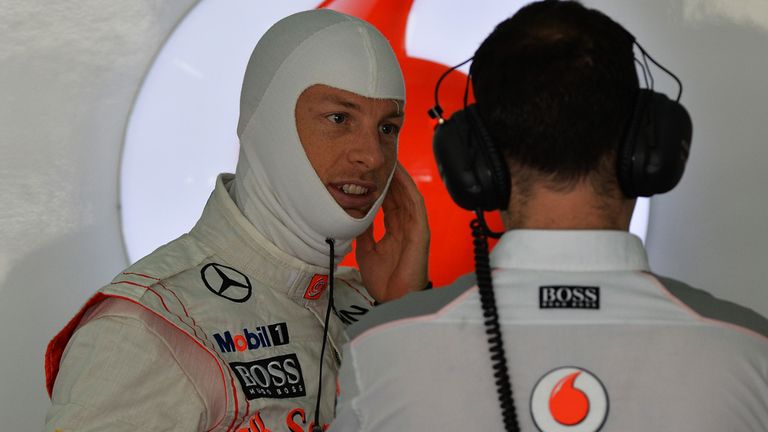 After making the cut by just 0.060s, Button let rip with cry of "Wa-hey!" over the radio to his race engineer Dave Robson.
It's the fourth time the 2009 Champion has made the cut in as many races this season. However, that's about as good as it's got for Button in qualifying given McLaren's uphill battle to turn their MP4-28 into a race winner.
"Our aim this year is not to be excited about getting into Q3 from Barcelona onwards," Button - clearly hopeful of genuine improvement at next month's Spanish GP - said on Saturday. "I've been in Q3 at every race this year, which we definitely did not expect at the first race.
"I think when you feel that, as a team, you've got the best out of the car in qualifying then it's a nice feeling.
"It's little achievements - that's what we need to work towards at this moment in time - and I felt it was good, getting into Q3. I didn't expect to get into Q3."
Given McLaren's current competitive state, it was a case of 'job done' for Button. He elected not to set a lap time in the top-ten shootout and so lines up tenth on the grid.
As a result, he now has a free tyre choice for the race and with the frontrunners seemingly destined to run three-stop races, Button hinted that two stops might be on the cards again.
He went against the grain and ran a two-stop strategy in China last weekend, when he finished fifth after starting eighth.
"Whatever tyre we choose to run on, it's going to be new - and no car in front has a new tyre," Button explained.
"It'll help us at the start but it also gives us more freedom throughout the race to run a different strategy if we choose to do so.
"We need to look through all the data for yesterday but also today - the circuit has improved - to see if we can do a two-stop race.
"But it's not just how many stops you do tomorrow; it's going to be which tyre to use. Because we've seen that some people like one tyre and others like the other tyre."
Button also predicted that tyre management will once again be key - the hot, dusty desert track at Sakhir placing a particular strain on a car's rear tyres.
"That's going to be the case in the race - we're going to overheat the tyres," he added. "It's going to be very difficult to know when to pit, I think, during the race: do you wait for the degradation to fall off a cliff? Or do you pit as soon as you've overheated the tyres?
"If you do, you're going to be doing a lot of stops."