Martin Whitmarsh Q&A - The McLaren boss faces the media after the 2013 Bahrain GP
Button v Perez battle the hot topic in the desert
By William Esler and Mike Wise
Last Updated: 22/04/13 1:20pm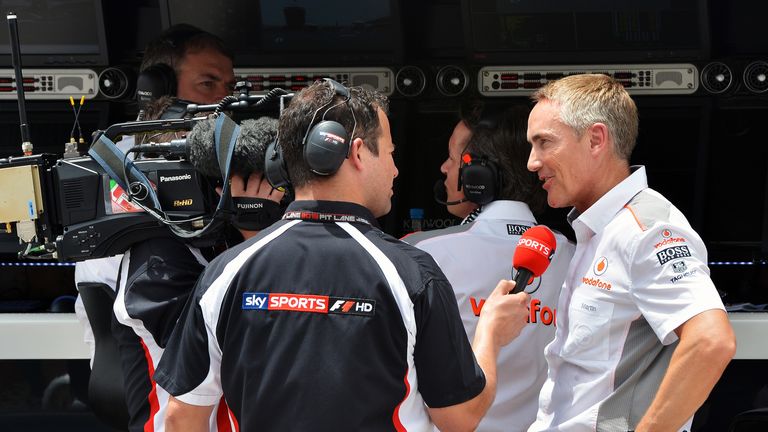 You told Checo after the last race to get his elbows out a bit - what will you be telling him after Sunday's race?
Martin Whitmarsh: "I have told him that one of the manoeuvres was beyond what is acceptable, but he is a young guy and I want him to enjoy the moment and enjoy what he did on Sunday with some really spirited driving. I had a lot of people telling me to 'stop this, stop this it is hurting us,' but I didn't and I think we have already seen a few times this season that if you don't then the guy behind is always going to think he was faster.
"It can go horribly wrong, but I think in the long-term it was the best thing to do and let both of the guys know they are racing each other. Some of the driving was marginal between the two of them but that is what happens when you let your drivers race.
"Checo is a young driver and he is robust - I said to him that the side-by-side is a positive, but what you don't do is hit your team-mate and potentially give him a puncture and potentially rip your front wing off. That was a bit too far and if he had come back to the garage at that stage he would have been for it. People have said he lacked the spark [before Sunday] but he certainly showed the spark today with a fantastic fighting result. He is a young driver and has to learn - but at the same time it is that passion that got him past [Fernando] Alonso and [Mark] Webber and others."
When Jenson twice came on the radio to complain about Sergio's driving, did you say nothing and just let it go?
MW: "I just let it go yeah. After the combat, I think at one point I did say to tell him to calm down now, but you don't fill the ears of a driver with that kind of stuff in the middle of that. It was tough and I think it was uncomfortable for Jenson, but they are both good guys and they will be fine and work it out. If I was Jenson I would have been annoyed about it as well."
Was Jenson still steaming when he got out of the car?
MW: "Jenson would be as you have adrenaline, but the thing about Jenson is he is really mature in his attitude and his balanced approach. He knows his team-mate has been under the hammer, he is young, he has had a bit of pressure and has a point to prove to prove in the race and that is the good thing about Jenson.
"He can stand back and be reflective, not when you are hot and sticky and step out of the cockpit, but he very quickly gets to that point as he is an intelligent guy. He knows Sergio is not a bad guy, he is a guy that was under pressure who possibly pushed a little too hard on some of those issues. They are easy guys to manage as they are really good people and there is genuinely good spirit between all parts of the team."
Have you changed your opinion on Perez after that race?
MW: "I haven't but I think some other people will have. I understood what Checo was going through, I know how good Jenson is and you when come into a team like this and we haven't given either driver the car they would expect from us, so that is tough when you come in as a young driver. Then you have very, very tricky tyres and then you have a World Champion who is very, very good at understanding those things - because make no mistake, Jenson set out to beat Checo at every race this year - so he has been up against it and inevitably it becomes a media story, which adds that external pressure.
"The good thing to come out of this is Jenson will get over it, because he is a star like that, and Checo will come out of this with his confidence at a higher level and he has demonstrated the passion and the spark that people expect to see from him."
Perez said after qualifying that he had set his car up to look after the rears better, was that a factor?
MW: "For whatever reason Jenson had a bit more trouble with his tyres than Checo did and in fairness at the point they were fighting, he was quicker. Therefore to say to him don't fight Jenson, or at the same time to tell Jenson to yield and let his team-mate past, is not how I have done it, yet, and I don't think I am likely to start doing it anytime soon."
When did you realise it was going to be a four-stop race rather than a three-stop race for Jenson?
MW: "Not until quite late - really it was when Jenson told us the tyres were going off. It was really when he was degging off - the thing was the tyres weren't wearing out, so he could have kept on going - but there was thermal degging and he would have lost that time. It was a painful decision but you pile in and make the best of it."
Will the upgrade in Barcelona give you a step forward?
MW: "That is the plan obviously. We are not where we need to be and where people expect us to be. So we are working hard and hopefully we can make some improvements and fight for podiums and wins."
Sebastian Vettel now seems to have built up a head of steam, do you still believe you can get back into this year's title fight?
MW: "Yeah, the truth is I just want to see us getting back on the podium and getting on the top step. I am thinking more about that and it is one step at a time. I didn't enjoy all of the race today, but I enjoyed quite a lot of it which is nice, but going racing when you don't think you can win is not something that I enjoy particularly. I want to get back to the point where we are arriving on a Thursday with the anticipation that 'we can win this weekend'. That is where we have to get to."
Is there a temptation to focus on 2014 given where you are now?
MW: "There might be in the organisation, but that is one of my flaws - I don't want to go racing when I am not competitive. Maybe that is a character flaw. But I have made it clear since Australia that I do not even want to talk about 2014."