Jenson Button says he & Sergio Perez must not abuse McLaren's stance on team orders
2009 World Champion acknowledges they're in fortunate position
By Pete Gill
Last Updated: 02/05/13 9:13am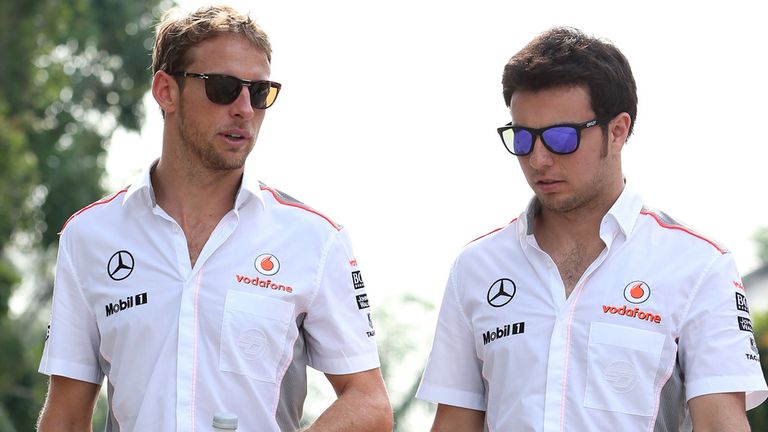 That laissez-faire philosophy manifested itself in an absorbing head-to-head dual during the Bahrain GP when Perez was driven off the road, and hit the back of the sister MP4-28.
Afterwards, Button described his team-mate's driving as dangerous and dirty, and although a clear-the-air meeting was held the next day between Button, Perez and team boss Martin Whitmarsh, the on-track relationship between the McLaren drivers was the chief topic of conversation when the 2009 World Champion addressed the media at a promotional event in Hungary.
"After the race it was important to sit down with the team and Checo and for us all to talk about the race, get it out and move on," said Button. "I think we're very lucky we were allowed to race. There are a lot of teams where team-mates aren't allowed to race.
"But we'd better respect that decision and not take advantage of it, and that's something we all understand now.
"Hopefully we can be racing in Barcelona, fighting cleanly and hopefully for the win, not for sixth or seventh."
For his part, Perez has clarified that although he accepts the Bahrain clashed overstepped the boundaries of good team-mate behaviour, his contrition did not extend to making an apology to Button.
"We had the chance to talk, which was very good for me, the team and for Jenson," said Perez.
"It was said in various publications I apologised to Jenson, but it wasn't like that. I didn't apologise to him because I didn't think it was necessary.
"We owed an apology to the team, and that's what we talked about. We apologised to the team because we risked a lot and were both very aggressive.
"But no, at no moment did I apologise."
The furore has overshadowed what has been a wretched start to the 2013 campaign for the McLaren outfit.
Button's fifth-placed finish in China represents their best result of the season so far with the team languishing just sixth in the Constructors' Championship, almost 100 points behind leaders Red Bull. A raft of updates for the troublesome MP4-28, billed at birth as the best McLaren had produced but nearly culled in favour of the retired MP4-27 once its flaws were belatedly realised, are expected to be introduced for next week's Spanish GP.
"In terms of our results, they haven't been good, but in terms of the direction we're going with the car I think it's very good," added Button.
"We have some new parts for Barcelona which should help us, and we can build on them in future races. But the points need to start coming soon, we understand that."