Jenson Button admits McLaren remain a long way off the pace ahead of British GP
Briton says handling better, but qualy will still be difficult
By James Galloway
Last Updated: 28/06/13 6:43pm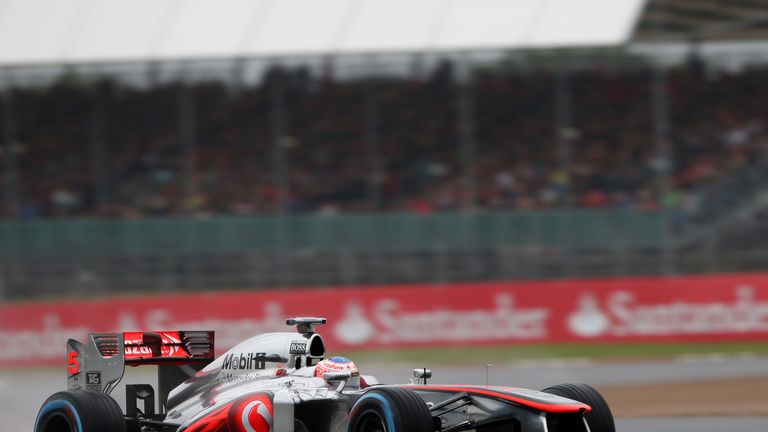 Although the morning wet weather, and day-long cool track conditions, at Silverstone made it difficult to read too much into the Friday pecking order, both McLaren drivers ended the more representative afternoon session outside the top ten, with lead runner Button 1.5 seconds off the pace.
McLaren experienced a depressing weekend last time out in Canada as the team lost their long consecutive points-scoring record and have been aiming to return to the top-ten this weekend.
But although Button was pleased to see the MP4-28 handling better over the bumps around Silverstone on Friday than had been the case in Montreal, he conceded that the gap to the front is still a large one.
"It is less bumpy," he told Sky Sports News.
"I think everyone's struggling in a certain way with the bumps with the way they are in the apexes [of corners] but on the straights we don't have the issues that we had in Canada, which is good.
"It feels a bit better. There's still a few things that we need to solve with the balance but we're still going to be a long way from the front."
When asked by Rachel Brookes how hopeful he was of making Q3 on Saturday, Button admitted: "I'd say very unlikely at the moment."
Team boss Martin Whitmarsh admitted that the Friday morning rain had been particularly untimely for McLaren, but remained hopeful that they could work their way up the order over the remainder of the weekend.
"We do seem to have been affected by an unusually high number of rained-out Friday practice sessions this year. While it's the same for everyone, it can be frustrating when you're trying to run through a large and intensive programme of testing," he said.
"While we were able to get quite a lot of mileage under our belts, there's still plenty of work left to do. It's been a difficult day, but with drier weather forecast for the next two days, we're hopeful of making progress."