Sky Sports exclusive: Martin Whitmarsh Q&A
The McLaren team boss on drivers' tyre concerns and why the team's ongoing struggles mean they have to "break from convention" ahead of 2014
Last Updated: 05/07/13 12:23pm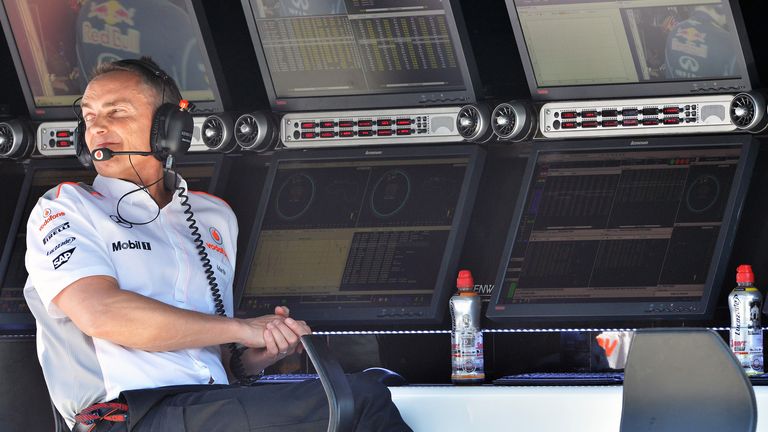 Martin Brundle: No issues with tyres in that session then - they seem to be hanging on pretty well on that Mercedes...
Martin Whitmarsh: "They look very quick, don't they? In the first session we only ran the prime tyre but after the excitement of Silverstone we probably want a boring tyre session, don't we?"
MB: Controlling cambers, pressures and preventing teams swapping tyres sides is no surprise really. The fix is there.
MW: "Well I think the fix is in the construction, but just to be clear, McLaren always ran within the correct pressures and the correct cambers and everything we did was agreed with Pirelli.
"But there is clearly a construction change which is the right thing to do and Pirelli have had to act quickly on that. I thought this circuit was going to be much lighter on tyres but when you look at the tyre loads, this is a surprisingly hard circuit on tyres."
MB: The drivers have said they will boycott the race if there is a blowout. What will you say to your two drivers if they come to you and say they don't want to race?
MW: "Well I have to say partway through Silverstone had there been another failure - and indeed there was, it was on our car - but had that failure appeared on another car earlier we would have had to consider coming in because I think it was serious situation.
"What the drivers are doing is inherently dangerous and you have to support them - if the driver is not happy out there, he has to be able to tell the team and come in. Not just about tyres; F1 cars are delicate bits of machinery if a driver is not comfortable we will always take that seriously and you have to respect that feeling of the driver and he needs to know the team will support him."
MB: You have said you are starting to focus on 2014 - does that mean all development now stops on 2013? We are not even half-way through the season yet - how do you keep your guys motivated?
MW: "Clearly we have to make sure we come out strong in 2014. We have some development bits here and there like development angles that are relevant to next year. But there are areas of normal development like the exhaust that we are not going to spend too much time on because the exhaust is very different next year and not significant.
"Whereas the front-wing for example, we have a radically new front-wing coming that is relevant to next year so we can still do that. So what we are doing is developing parts for next year, but anything we can bring to this car we are going to do so.
"We are going to carry on fighting and bringing parts to this car but we have to be realistic about where we are this year - and probably a break from convention for McLaren as normally we are fighting for wins of the championship and you don't have the luxury of taking the foot off the gas, and it doesn't feel good to be doing that - but we have to make sure we are doing the right things for next year."
MB: And do you know where it went wrong this year? Was it the pull-rod front suspension? Before you do the 2014 car, have you nailed what the problem was?
MW: "Well I have my own views and I have expressed those to the engineering team as you might imagine. There are a number of things, it is not usually one issue, and you have to remember Formula 1 is a massively competitive environment and if you are one or two per cent out of that sweet-spot you are nowhere and that is unfortunately where we are.
"We took some decisions looking back on now that we regret and the important thing is to learn from that. We don't give up, we want to race, we want to win a race this year but we have made it pretty tough for ourselves, but importantly with the brand new regulations for next year we need to make sure we come out strong and put our resources into that.
"Next year is an important year and of course 2015 is another important year for McLaren and we have to look ahead. I think we have an exciting future ahead of us. We are used coming to races and thinking we can win - when you are thinking you need to luck in to do that it is a different mentality."