Jenson Button is hoping a hot Hungarian Grand Prix will help him make progress
McLaren star wants to take advantage of high track temperatures after qualifying 13th
By Mike Wise in Budapest
Last Updated: 28/07/13 9:05am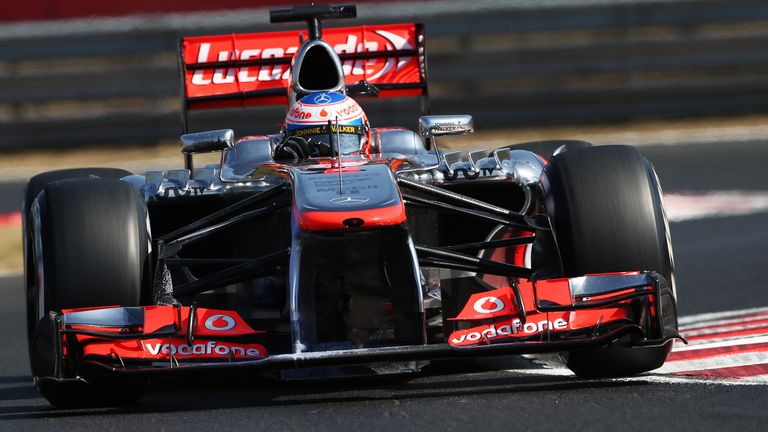 "It's going to be pretty intense tomorrow, which is good. It's not the easiest circuit to overtake on but I have a feeling that if we have a 56 degree circuit temperature, it's not going to be a straightforward race. I think we'll see some overtaking," said the McLaren driver, who took advantage of wet conditions to win the 2006 race after starting 14th.
Forecasts have predicted ambient temperatures as high as 40 degrees Celsius for Sunday's race. General consensus cites the 2005 Bahrain GP - where thermometers nudged 42 degrees - as the hottest race in recent memory but Sergio Perez likened the challenge to the one faced at Sakhir earlier this season.
"I think tomorrow we'll have a very interesting race, a bit similar to Bahrain - the same temperatures and with the double DRS zones and different strategies we're going to see. I think it's going to be a very tricky race to get the maximum out of it," said the Mexican, who himself opted for a different strategy after qualifying ninth on the prime tyre.
Of course, this year's Bahrain GP also brought a collision between Button and his hard-charging team-mate - a fact which was not lost on the 2009 World Champion. "I think it'll be great fun. It'll be nice to keep all the bits on the car this time, though," Button added.
Earlier, during final practice, Perez had crashed at Turn 11 but his car was repaired in time for qualifying.
Button admitted he was disappointed with his qualifying performance given the optimism that seems to have been spreading throughout McLaren this week.
However, he also repeated the point he made on Thursday: that the Hungaroring isn't the track on which McLaren can really show the improvements they feel they've made.
"Qualifying for me wasn't good but I think this week it's difficult to showcase the improvements. With the way this circuit is, the layout, it's very unusual the balance that you get around here," Button said.
"I think at the circuits we've got coming up, you'll see the improvements that we've made. I think at Spa and Monza you'll see that we've made a reasonable step forward."
According to Team Principal Martin Whitmarsh, "I think, to be honest, we had a little bit more optimism at the beginning of the week. We've made a small step but I think we've got some understanding, made a series of parts pretty late without the normal process and I think we can get more.
"We will get more from some of the developments. We now have a direction and some good ideas."