Jonathan Neale says McLaren 2014 driver confirmation 'won't be too much further now'
Team expected to eventually retain Button and Perez
By James Galloway
Last Updated: 19/09/13 8:18am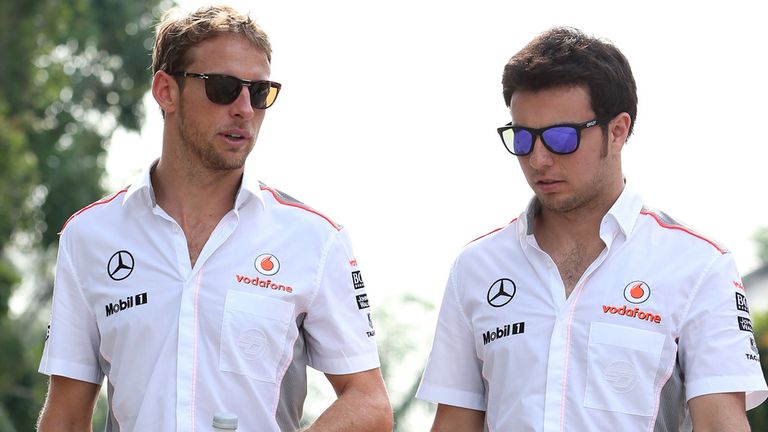 Although Team Principal Martin Whitmarsh has indicated on several occasions that McLaren are likely to field an unchanged line-up of Jenson Button and Sergio Perez for 2014, and Button himself told Sky Sports News on Thursday that he was completely relaxed about his contractual situation, the Woking outfit have nonetheless held off from finalising their plans.
"I can't tell you when, but obviously it won't be too much further now when I hope we'll be able to clarify what's going on," Neale, the team's Managing Director, told the latest Vodafone McLaren Mercedes phone-in.
"Right at the moment we're focused on our preparations for this [Singapore GP] weekend, making sure that we wring every bit of learning out of the season and prepare well for next year.
"So that is our priority at the moment. That's not to say the drivers are a second priority, but when we have something to say we will let you know."
Neale, in response to a further question about whether the delay was being caused by McLaren talking to other drivers, added: "This is one of those industries and businesses, and this is that time of year, when everybody is talking to everybody, whether it's the technical staff moving around or whether it's drivers.
"So it would be wrong for me to speculate but we will get to it [confirming their plans] pretty soon."
While McLaren are nonetheless highly likely to retain both Button and Perez for at least 2014, the team have also been working to place the two highly promising young drivers on their books - Kevin Magnussen and Stoffel Vandoorne, who are battling for the Formula Renault 3.5 series title - in F1 roles elsewhere on the grid.
Neale admits it's not an easy process, but feels both drivers deserve their chance at the top level.
"I'm not in a position where I can be specific about what's going to happen there, but I can say that both Kevin Magnussen and Stoffel Vandoorne are currently dominating the World Series championship and I think are really exciting prospects for the future," he said.
"I think it behoves us as a sport to make sure that those pretty talented individuals find their way into Formula 1. Certainly on current performance they look like they've earned the right to get there, but the step between coming through the junior series and coming into F1 is pretty challenging.
"We're trying to figure out the best way to do that. I'm sorry I can't be specific, but we would expect both those two in Formula 1 in the not-too-distant future."