Sergio Perez admits his performances since joining McLaren have been below expectations
"I know I have to improve" Mexican says as contract impasse persists
By Mike Wise in Singapore
Last Updated: 22/09/13 10:31am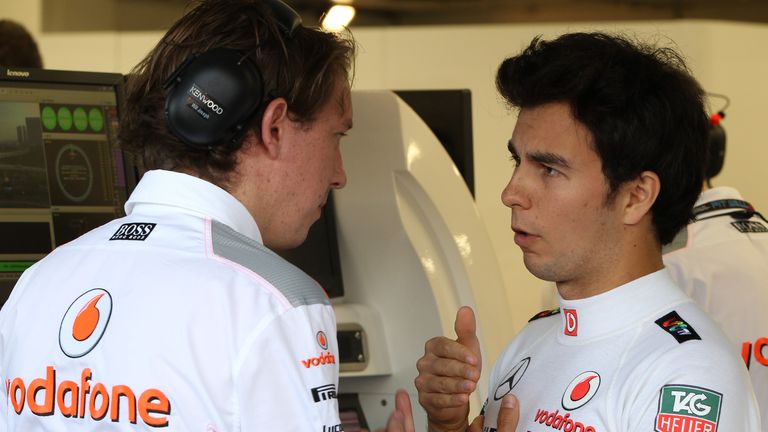 Speaking after qualifying 14th for Sunday's Singapore Grand Prix, Perez cited mitigating circumstances in the form of McLaren's troublesome MP4-28 but nevertheless reckoned he needed to improve.
"I have to say that I'm not happy with my performance at all," Perez, whose best result so far this season is sixth place in Bahrain, said on Saturday evening. "The car and the year have been very difficult. All the season we're still learning about the car, so it makes things difficult.
"I know I have to improve and I'm working very hard with my team to improve."
Perez said that, for him, the devil has been in the detail and cited his qualifying performance at Marina Bay as an example of how he has been making small mistakes at crucial moments.
"Making the last little calls, especially with the car being tricky," he said, summing up his difficulties. "I think today was an example. We had some problems with the car and we made one or two bad calls and suddenly we lost two tenths, which put us out of Q3 and compromises our weekend.
"Me and the team have to make sure they don't happen."
Perez reckoned he has been "showing that the pace is there" but added that he must "be able to maximise every single point, every single detail".
"Because when we have a (better) car, we have to make sure we fight for the Championship," he added.
That McLaren might even give Perez the chance to fight for the Championship has been called into question this weekend, such have been the ripples caused by the contractual impasse.
Both Button and Perez have said that deals are in place but the lack of any official confirmation, coupled with Martin Whitmarsh's admission that he would consider re-signing Fernando Alonso, has given fresh legs to F1's 'silly season'.
Alonso has continued to pledge his long-term allegiance to Ferrari after last week's announcement that he'll be joined by Kimi Raikkonen in 2014 and yet the speculation persists, with Perez's position seen as less secure than Button's.
This weekend has also brought the news that Perez has split from his management team, although he said that it "had nothing to do with" the contract delay.
Whitmarsh re-iterated on Saturday the likelihood that McLaren's line-up will be unchanged in 2014 and also backed Perez in what he termed a learning year for the 23-year-old.
"We're not making the announcement, but I have said several times and I'll say it again, that I don't foresee a change in our driver line-up and I think both guys have made comments about their position for next year - and I think they were both accurate in what they said," he said.
"Checo has come into a team with a very high benchmark in the other driver. He's with someone who is consistently quick and someone who has got a decade more experience than him.
"It's not easy coming into a team like this and beating someone like Jenson, who doesn't often make mistakes, gets it right, is quick and knows how to work with the team very well.
"Checo has come a long way in learning. He's set himself ambitious targets; he'll want to go further and we'll want him to go further.
"I think this is a year of learning for him. I'm sure we haven't seen the best of him yet and I'm sure he strives to be up there."
Whitmarsh also emphasised once again that his comments on Alonso simply reflected an admiration for the double World Champion's abilities.
"I was asked on Thursday a hypothetical question, which is, 'Would you welcome Fernando Alonso to the team?' And I said, 'Yes'," he said.
"I also said that, in all probability, we'll have the same driver line-up next year. That part of the conversation didn't receive the same level of coverage, obviously, because it wasn't as exciting."
Whitmarsh added that, "both drivers either side of me feel comfortable about their future" but there was no mention of what might happen beyond 2014, when - and according to whom one chooses to listen to - Alonso's public pledges of loyalty to Ferrari might not be quite so insistent.