Jenson Button has suggested that the minimum weight of 2014 cars should be increased
Fear is that taller, heavier drivers could be handicapped by new rules
By Mike Wise
Last Updated: 03/10/13 6:00pm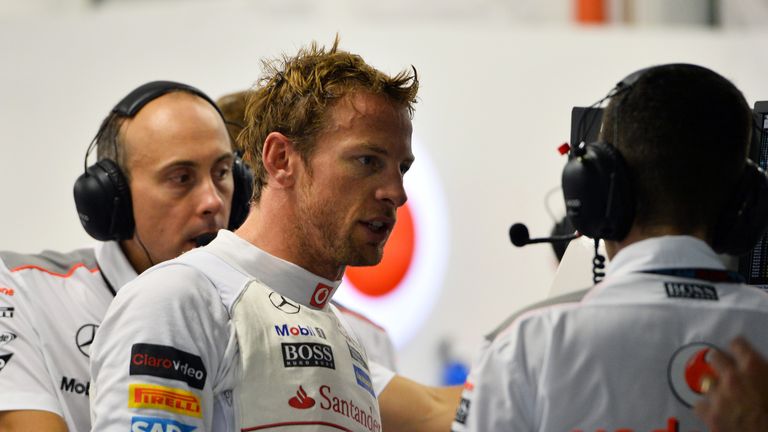 As things stand, the minimum weight will be increased from 642kg to 690kg in 2014 in line with the new V6 turbo engine formula that also mandates enhanced energy recovery systems. However, that increase will not make things easier for bigger drivers.
If anything, the opposite will be the case. An explanation lies in the fact that F1 cars are built underweight, with driver weight and ballast used to bring them up to the legal minimum. Yet because the ancillaries associated with the new power units are expected to be heavier than had earlier been thought, the anticipation is that six footers such as Button and Nico Hulkenberg will have even less flexibility setting up their cars.
Moving ballast can help improve a car's balance and the more of it there is, the bigger the potential gain.
Little wonder, then, that Button thinks next year's minimum weight should be increased by ten kilos. "I'm 74, 74.5 kilos with my kit and I struggle to meet the weight limit - I have done for the last three years," the McLaren driver said on Thursday. "There's certain fitness training that I have to do and parts that I can't do: I can't build muscle; I can't eat carbohydrates because I have to be a set weight.
"It's going to get worse next year as well. Next year, I don't think any team will have any ballast really on the car. It is very tricky for a taller driver.
"It's not that it hurts you over a lap because you set the car up around yourself. But you lose a lot of tools to adjust the car - you can't move the weight distribution because you're so limited."
A weight of 60-65kg is seen as ideal by designers but not all drivers have the requisite build. Hulkenberg (78kg) is certainly not in possession of a pint-sized frame, with Button reckoning it can cost between two and three tenths of a second per lap.
"Every year, we start the season with ballast. Throughout the year, because you add parts to the car, the car puts more weight on," he said.
"Whereas at the start of next year, I think every team is not going to have ballast on the car - and it's only going to get worse during the season.
"It does hurt the heavier drivers and it's very unfair to say we'll lose weight, because some of us can't lose any more weight; you need to have skin on your bones and a little bit of muscle to drive a Formula 1 car."
Button added: "People don't realise the difference a kilo of weight can make, even if it is to change the balance of the car. It's 30 milliseconds per kilo and around most circuits ten kilos is about three tenths per lap.
"If you're four kilos overweight, it's a lot. It's almost two tenths."
Button said the matter would be discussed at a GPDA meeting ahead of Sunday's race at the Korean International Circuit.
"It should be easy for us to stick another ten kilos of weight on the car; I don't understand why we can't talk about that. But maybe it's because we haven't talked about it - we haven't asked for the cars to be heavier," he added.
"It's one of the easiest things to put right. It could save a driver's career."
You can see all the action from the Korean Grand Prix this weekend. Coverage of the first practice session starts at 1.45am on Friday morning. Practice three and qualifying is from 2.45am on Saturday and all the build-up and the race is from 5.30am on Sunday morning, and it's all live on Sky Sports F1.