Pirelli say the decision to cancel a tyre test with McLaren is 'not ideal'
Supplier had been hoping to run with two-year-old McLaren in Austin
By Mike Wise in Yeongam
Last Updated: 04/10/13 1:08pm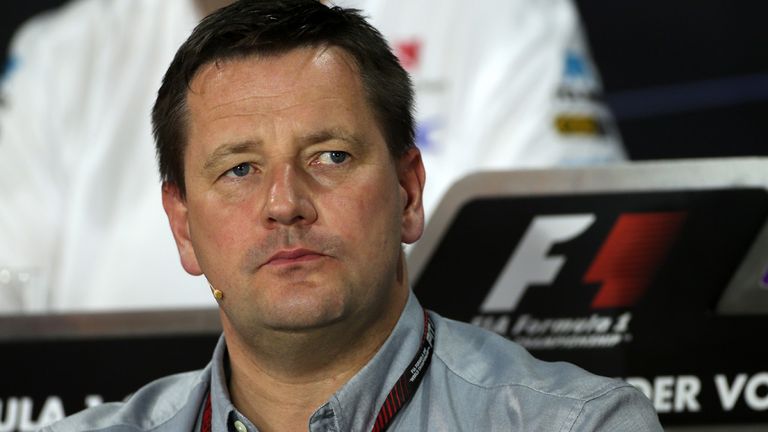 The Italian tyre company's intention had been to run a two-year-old McLaren with the team's test drivers Oliver Turvey and Kevin Magnussen at the Circuit of the Americas.
However, the FIA subsequently ordered that it be cancelled amid suggestions that rivals had complained that the test might hand McLaren an advantage in next month's United States Grand Prix.
"It's not ideal, obviously. That's a bit of an understatement but we understand that maybe there's some objections from a couple of teams," Hembery, Pirelli's Director of Motorsport, said on Friday.
The decision to cancel comes almost five months after Pirelli ran its controversial test with Mercedes in Barcelona. Teams only became aware at the Monaco GP that the team had used their current W04 car, with the FIA subsequently excluding them from July's Young Driver Test.
Hembery said the approval process has since been tightened up, ensuring that any such 'secrecy' was now impossible.
"That's part of the process - that you don't cross any boundaries after the Mercedes test," he said. "That's why you have the process of approval. Those are the reasons given and we have to accept them and find another solution."
Hembery also gave more details of next year's rubber. Although it will have the same dimensions as the current tyre, the profile will be different while the structure is still being finalised to cope with the forces 2014's rule changes will unleash.
However, he also admitted that information supplied by teams was hardly helping Pirelli's cause.
"The real impact for us will be in terms of torque, wheelspin and lack of downforce, which is heavily compound-dependent," Hembery said.
"I don't think anybody really knows. If you look at data from the teams, there are huge disparities in all of the teams, so we maybe need to do another survey in a month's time to see if there's been any updates to that. We're not going to really get all the correct data because of the paranoia in Formula 1.
"All the suggestions are that it's going to be a very strange start up and a very big difference for drivers, teams and ourselves."
Although teams have the option to vary compounds front and rear to cope with any additional stresses, Hembery said: "We don't know whether we'll need to do that. We're worried a little bit about the differences in balance. Maybe we need to do something different on the rear tyre due to the torque that I mentioned."
Hembery also said that Pirelli is working on the assumption that it will be F1's tyre supplier for another five years.
Although a commercial contract is in place, terms have yet to be agreed with the FIA. The situation has been further confused by the governing body, which said last week that a new tender process will eventually come into effect.
The FIA's statement did not say when, but Hembery is confident a deal will eventually be thrashed out having also been through protracted negotiations when Pirelli re-entered F1 in 2011.
"Bear in mind that when we came into the sport, it wasn't signed until February of the year in which we started racing. There's meetings going on," he added.
"When you've got lots of different groups involved and lots of lawyers, there's lots of details."