Jenson Button was cautiously optimistic after a promising opening day of practice
McLaren driver seventh behind team-mate Perez as Yas Marina Circuit
By Mike Wise
Last Updated: 04/11/13 8:27am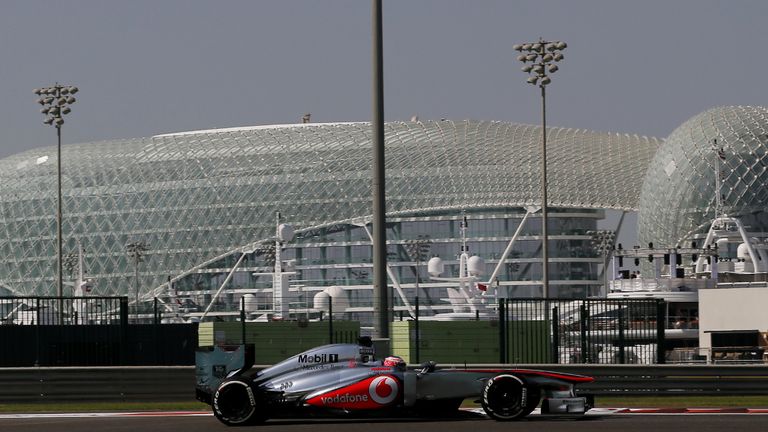 Button was seventh fastest right behind team-mate Sergio Perez, which equates to McLaren's best performance on a Friday in 2013. They are still searching for a podium finish but did at least end the session closer to pacesetter Sebastian Vettel - within 0.7 seconds - after McLaren tried a low-downforce set-up on their MP4-28 cars.
That meant they were fastest through the speedtraps, with Button saying the reason for them trying skinnier wings is for fear of losing out to rivals on the Yas Marina Circuit's two long DRS straights.
"We're running 318km/h today and the cars we're racing are very similar in terms of straightline speed. I think in terms of downforce, to do 318 km/h for us, we take a lot of downforce off the car because the car's quite draggy," the 2009 title winner said afterwards.
"I think we're quite low downforce at the moment, but we'll see what happens tomorrow."
Button lost time in the pits after suffering what the team at first thought was a puncture. As it turned out, however, the fault lay with a sensor.
"A lot of time was spent off the circuit, because we had to replace some parts that got a bit warm, which is a pity," he said. "But in terms of understanding the car and direction on set-up, I think it was a reasonably good session."
McLaren will now sit down to talk about possible strategies but the 2009 World Champion added that the calculations had not been helped by a lack of running on the medium tyre.
"We haven't talked about qualifying yet. That will be discussed but I think both tyres are working reasonably well compared to India. That prime was very good in India but the option wasn't but both tyres seem to be working reasonably well," Button added.
"But the car's feeling okay round here. On the soft tyre on one lap, it feels good. I got it on my first lap, which most people didn't. So I'm happy about that.
"Long runs have been a bit tricky because of traffic and not having enough time to do them really, because of the issues we had."