McLaren closing in on 2014 driver line-up announcement says Martin Whitmarsh
But new title sponsor won't be confirmed until after the season
By James Galloway at the Yas Marina Circuit
Last Updated: 04/11/13 8:18am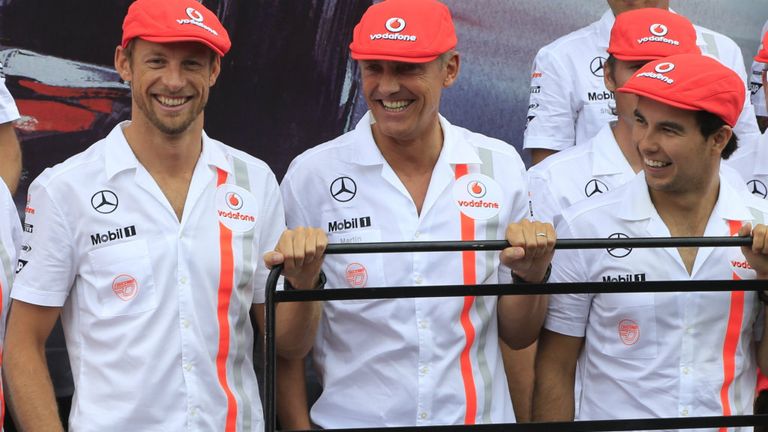 Unusually, the Woking-based outfit have headed in to the final weeks of the season with neither of their drivers officially announced for next year, although a one-year contract extension for Jenson Button has long been in place.
Sergio Perez's future has therefore been at the centre of the speculation, but in the wake of the Mexican himself suggesting at the Indian GP that "I think it's made" in regards to a decision over his future, Whitmarsh revealed in Abu Dhabi on Saturday that official news was imminent.
"When will we make our driver announcement? The answer is I suspect we'll be making it quite shortly," the Team Principal told reporters.
Hired as the successor to Mercedes-bound 2008 World Champion Lewis Hamilton at the start of this year, Perez has experienced a mixed season of results in his first campaign at Woking but his fifth-place finish last weekend equalled the team's best result of their disappointing year.
"Sergio delivered a great race last week and that's the sort of thing that we love," Whitmarsh added after the Mexican followed that up by being McLaren's sole Q3 representative at Yas Marina on Saturday night.
"He was very unlucky today. [If] he could have carried through after Q2 [when Perez set the fifth-best time] in to Q3, he would have been further up and I'm confident he is going to do a fantastic job [in the race]."
Should Perez, as now seems likely, be retained for a second season, speculation has suggested that the Mexican's backer, the Telmex communications group, could become McLaren's new title sponsor for 2014 with the team's long-time partner Vodafone having decided not to renew its contract.
Asked on Saturday if the identity of their new sponsor would be made public at the same time as their impending driver announcement, Whitmarsh replied: "No. I think it will be a separate one and it will likely be beyond the end of the season because obviously we're respectful of the partnerships we have at the moment."
But has a contract already been done? "There are lots of deals done," Whitmarsh replied with a smile.