Martin Whitmarsh admits no excuses for McLaren not to win races again in 2014
"We've had a big kick up the pants," admits team boss
By James Galloway
Last Updated: 26/11/13 8:34am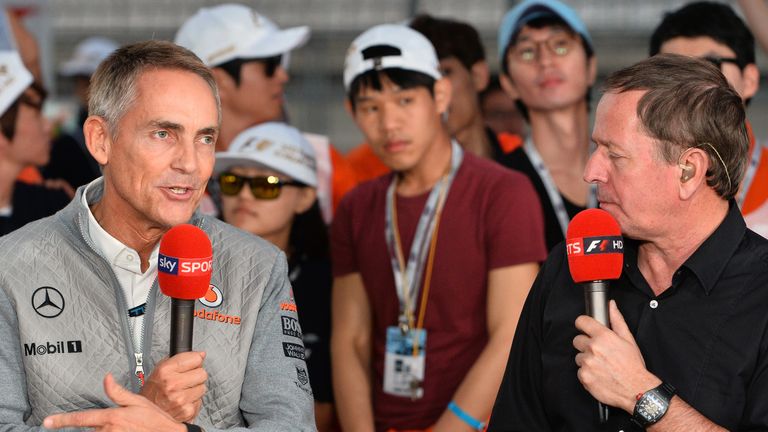 Sunday's season-ending Brazilian GP confirmed that for the first time since 2006 the eight-times Constructors' Champions had gone through a season without winning a race, with their year-long struggles emphasised by the fact that Jenson Button's fourth place at Interlagos was their best result of the entire 19-race campaign.
McLaren's fall from race winners to midfield runners can be traced to the decision mid-way through last year to take a more revolutionary design step with the MP4-28 - however the team are eyeing an immediate return to form for the start of F1's new era of engine regulations in 2014.
Speaking to Sky Sports F1 after finishing their year on a relative high with fourth and sixth places in Brazil, Whitmarsh made no bones about how difficult 2013 had been but said winning races again next season was their only goal.
"It's been a pretty tough year. We've had a big kick up the pants and hopefully that's what we needed and we're working hard to make sure we don't need one again next year," the McLaren Team Principal said.
"When you have a bad year you've got to look at everything. We've got to do a better job at the circuit, we've got to do a better job back in Woking developing the car.
"I think Mercedes will do a pretty good job on the powertrain, so I don't think there are excuses for us - we have to go out there and we've got to win next year. That's what everyone's focused on."
Although McLaren haven't been alone in failing to come up with a strong enough package to defeat Red Bull over the last four seasons, the dramatic powertrain and aerodynamic rule changes for 2014 theoretically act as a reset button for the order of the grid.
Sam Michael, the Woking outfit's Sporting Director, said that such will be the rate of development among all the teams next year that the competitive picture is likely to remain fluid for some time from Melbourne onwards.
"It's such a big rule change. You've got massive change to the powertrain next year, huge change to the aerodynamics and reliability's going to be a factor," Michael replied when asked what gave McLaren hope for a more competitive 2014.
"It's going to be a massive development race next year - if you see the curves we see in the wind tunnel at the moment they are all very steep, and all the teams will be the same.
"When it's like that you know it's going to be a really heavy race next season, so even if you start off competitive you're going to see big changes throughout the early races."