Jenson Button admits lots of work to do for McLaren after trailing rivals in Malaysia
McLaren ran a new-look nose for the first time in Practice
By James Galloway
Last Updated: 29/03/14 4:56am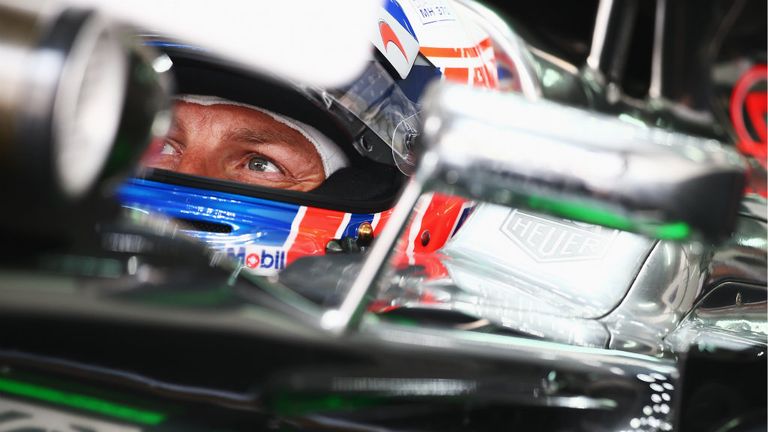 After ending their 16-month podium drought with what, pending the outcome of Red Bull's appeal against Daniel Ricciardo's disqualification, turned out to be a double rostrum finish in Australia, McLaren made clear their determination to pursue an 'aggressive' development rate to try and close the gap to current pacesetters Mercedes.
The first fruits of that programme were revealed on Friday morning at Sepang with the MP4-29 featuring a revised 'nose-box' and front wing with the team debuting the boxier look in a bid to increase airflow under the bottom of the car.
But while encouraged by the early signs from the upgrade, Button confessed that the MP4-29, amid sweltering Friday conditions at Sepang, had simply lacked pace in the high-speed corners after he finished Practice Two down in eighth position.
"I think they [the changes] probably have improved [the car], yes, The guys did a great job getting those parts out here, it's always very difficult especially when you've got to crash test them," Button told Sky Sports News.
"But our pace isn't there this weekend so far. The hot temperatures hurt us quite a bit I think because we're not quite so strong in high-speed corners, and it just exaggerates the issues you have. Degradation's always worse with the hot conditions.
"So we're finding it tough out there at the moment and hopefully with the cooler conditions on the weekend and a few set-up changes we can be a bit more competitive."
Asked if tyre wear was set to prove a dominant factor in Sunday's race, Button added: "Yeah, but I think our outright pace isn't there either. Not just compared to the Mercedes but compared to half the field really. So there's a lot we need to do for tomorrow and qualifying."
Button's assessment of McLaren's current shortcomings at Sepang was shared by rookie team-mate Kevin Magnussen, but the Dane did offer hope that the team's engineers knew how to improve the situation.
"We're not quickest obviously, that's easy to see, but we know what the problems are and we just need to take it step-by-step," Magnussen said after ending P2 in 12th place.
"I've said all the time that we need to keep pushing and we need to work really hard. We have a lot of work to do but we will keep pushing."
Having never driven at Sepang prior to Friday's running, Magnussen got his first experience of the venue's famously sweltering climate and said learning how to manage tyre wear in such conditions was something he needed to work on.
"The issue here is the tyres because it's so hot. The track temperatures are around 50 degrees and the tyres are overheating a lot. I need to learn about that," the 21-year-old added.
"We had a good day today in terms of how many laps we got and there is a lot to learn from that and see what we can do tomorrow."