McLaren Racing Director Eric Boullier remains optimistic they can win in 2014
Jenson Button and Kevin Magnussen both finished out the points in China
By Mike Wise
Last Updated: 23/04/14 1:25pm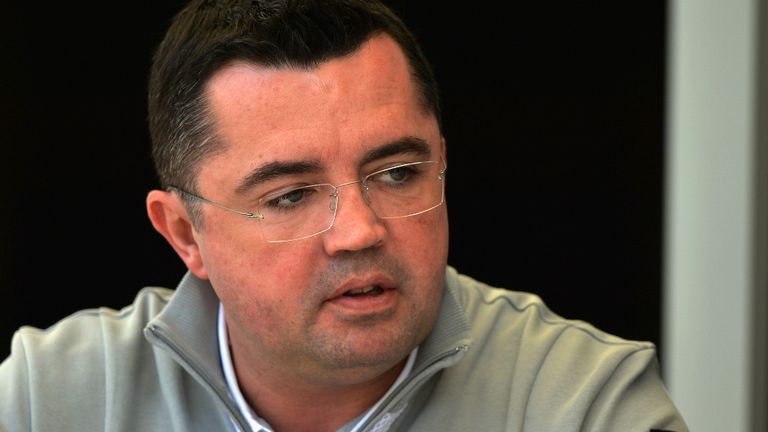 Leading the Constructors' Championship after last month's Australian GP, the Woking team have since slipped down to fifth place with Jenson Button and Kevin Magnussen both finishing outside the points in China last weekend.
A lack of downforce on the team's MP4-29 car has been blamed for the poor results, although Boullier insisted a programme of "very aggressive" development will turn things around and help them challenge pacesetters Mercedes.
"Obviously we have to believe we'll win a race," the Frenchman said during a McLaren Mercedes phone-in on Wednesday. "If you look at the details, it looks like we're stepping back since the beginning of the season. It's true that Australia was a bit optimistic but we also prepared ourselves to pick up points and even podiums from the others.
"I've made clear that a lack of downforce is hurting us, when you have very hot conditions or very cool like we had in China and there is a technical reason for that.
"I think what's going on here in Woking is very positive and I think we'll be able to keep pushing and bring, let's say, a very aggressive and strong development for the season.
"I think we'll put ourselves in a position, maybe not in the first part of the season, but maybe later to fight for a win. I hope so."
McLaren's Racing Director insisted they have a "very, very good rate of development in the wind tunnel" and said they would bring an "interesting" upgrade to the Spanish GP.
Boullier also said he had pin-pointed how McLaren might improve their performance. Appointed in January, the former Lotus team boss suggested his new outfit could better adapt to testing restrictions imposed in the last few years.
"When you had the testing and this kind of thing, there was an engineering model which worked very well," he said. "And maybe over the last few years, with more and more restrictions - on, first, no track testing and then less and less [wind] tunnel freedom - maybe there was a little bit of a shift of a couple of processes that need to be reviewed.
"It's nothing fundamental, which is why we just need to reconsider a little bit how we, strategically let's say, build our car, build our performance and develop our performance."
Boullier, however, flatly denied the suggestion that, for McLaren, the current season is a transition year before Honda come on board in 2015
"You can't allow yourself to think and wait in motor racing," he responded. "The 2013 year should be a benchmark for us to never do it again, and 2014 should be seen as a year which is not a transition year but an era of rebuilding a winning team.
"Then, in the middle of this, we have this extra challenge to work very efficiently with our partner Mercedes but then later in the year start to implement their Honda rival. But it's just part of the challenge."