Jenson Button says all of McLaren, not just himself, should 'try harder'
2009 World Champion responds to Ron Dennis comment
By Mike Wise at Silverstone
Last Updated: 04/07/14 11:59am
Jenson Button has responded to a comment made by McLaren boss Ron Dennis that he should "try harder" and said that it should be applied to the whole team instead.
Speaking at Silverstone on Thursday, the 2009 World Champion stressed that, as far as he's concerned, F1 is not a question of "half measures". According to Button, it's more a question of teamwork.
"I think Ron's practicing to be a motivational speaker maybe. I think when we're in the position we've been in for 18 months, it's not easy. For anyone within the team, it's very, very difficult," he said.
"I think we all need to work harder as a team. I don't think we should be pointing the finger at any individual with the team. I think we've got ourselves into this situation; we've got to fight our way out.
"I don't do things in half measures. I have the experience in Formula 1 to know that we need to give 100 per cent and I always do: in the paddock; at the factory; on the phone to engineers.
"Everything is 100 per cent."
Questioned by Sky Sports F1's Natalie Pinkham about his driver last week, Dennis responded: "Do I want [Button] to try harder? Of course I do. He's a highly-paid grand prix driver.
"We are not giving him the best car and yes, it would be challenging for him to win in this car, but he could do his bit and Kevin [Magnussen] has to make it as difficult for him as possible."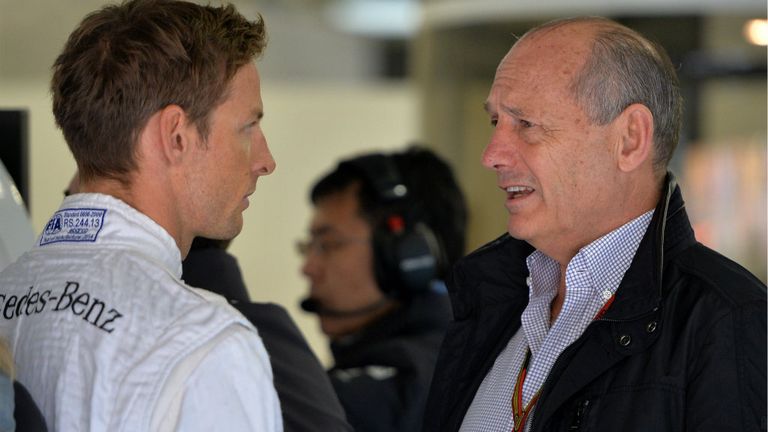 Ahead of his home race this weekend, Button also responded to speculation about his McLaren future.
The 34-year-old's contract expires at the end of the current season and although Button has said he wants to stay put, both parties have yet to agree fresh terms.
"We will see. For me right now it's about doing the best that I can; also us as a team are working to do a better job," he added.
"We're not where we want to be – where McLaren is used to being – and we know that, so we're working very hard.
"But in terms of the future, that's something I can't discuss right now."
Watch the 2014 British GP live on Sky Sports F1. Extensive coverage of the Silverstone race weekend begins with Friday Practice from 9.45am on July 4.