Jenson Button admits he 'overreacted' with criticism of Lewis Hamilton in Germany
Jenson had questioned former team-mate's approach before reviewing footage; Apologetic Hamilton admitted he had misjudged situation
By Pete Gill
Last Updated: 22/07/14 6:04pm
Jenson Button has withdrawn his criticism of Lewis Hamilton's driving during the German GP, admitting he "overreacted" in condemning his former team-mate.
Hamilton and Button clashed midway through the race when the Mercedes driver, charging through the field from 20th on the grid to third, mistakenly believed he was being let through by the slower McLaren and launched his car into the hairpin. As Button, caught unawares by Hamilton's sudden advance, belatedly turned in for the corner, the two cars collided, severely damaging the front-wing on the W05.
Despite receiving an apology during the race - in the form of a wave from the cockpit when the Mercedes breezed past the McLaren a lap later – and then again when Hamilton stood on the podium, an aggreived Button made his irritation plain afterwards.
"I don't think I'm the only person he drove into," Button, who finished eighth, told reporters. "It's strange when the car is much quicker, you wouldn't think he would get into such fights."
Speaking to Sky Sports F1, Button added: "He drove into my rear wheel, that's all I have to say. I guess he thought I was going to let him past but I am out there doing my race and it would be boring if we all just let him through coming through the field."
However, after reviewing footage of the race late on Sunday night, Button acknowledged that the criticism had been unwarranted.
"Interesting GP today, loved the tussles out on track," the Englishman tweeted. "After watching the race back I think I overreacted with my feelings about Lewis's move. I can understand why he thought I was giving him room. Amazed we both got around the corner!! F1 put on a great show today and long may it continue!"
Yet while Button has withdrawn his rebuke – relatively mild and made before the heat of battle had cooled – it did contain a kernel of truth. As he hurtled through the field in a desperate bid to limit the damage done to his World Championship bid by his brake failure in qualifying, Hamilton made contact with both Adrian Sutil and Kimi Raikkonen as well as Button.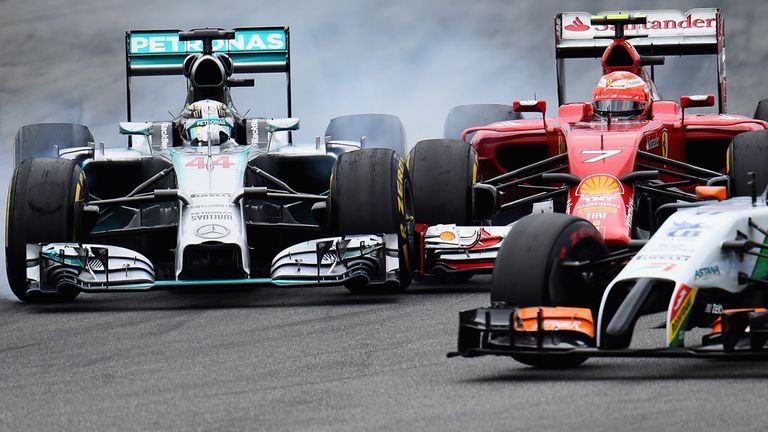 For the Finn, the damage inflicted on his Ferrari was to prove especially costly as he limped home out of the points in 11th, half a minute behind team-mate Fernando Alonso.
"Twice I found myself squeezed between two cars and on both occasions my front wing got damaged and that compromised my race. Tyre performance dropped more than expected and I had graining on the front left and was losing aerodynamic downforce," said a forlorn Raikkonen.
But at least he made it to the line. For Felipe Massa, groundhog day struck again as the Brazilian, for the third time this season, was hit at the first corner, this time by Kevin Magnussen, as the McLaren and Williams drivers attempted to navigate their cars through a stretch of track that could only house one. Massa, though, was thoroughly unimpressed as he pointed the finger at the rookie.
"If anyone needs to watch, it is the car behind," he raged. "At that the corner you cannot have three cars side-by-side, and I backed off a bit to not be side-by-side with my team-mate. It is normally a guy who comes from GP2 who causes this accident ..."
Magnussen was unrepentant. "There was nothing I could do," he maintained.
Oh to be a fly on the wall in Thursday's drivers briefing in Budapest ahead of this weekend's Hungarian GP.