Ron Dennis stresses McLaren will always try to sign the best drivers on the market
McLaren boss "satisfied" with Button & Magnussen's 2014 performances but keeping tabs on movements of other drivers too
By James Galloway
Last Updated: 28/08/14 5:16pm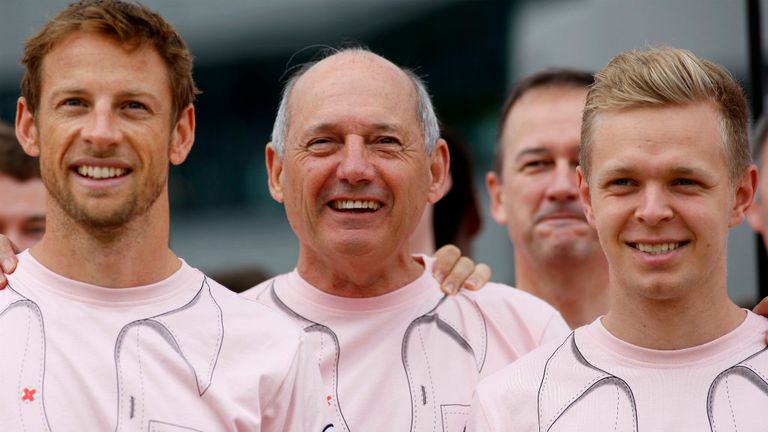 Ron Dennis has made clear that McLaren are "keeping an eye" on the contract movements of a "few other drivers" currently racing for rival teams as the Woking outfit continue to mull whether they stick or twist with their current line-up for 2015 and beyond.
In the same week in which speculation continues to grow that McLaren are holding out a decision on their line-up for next season while some of the sport's biggest-name drivers, namely Fernando Alonso and Sebastian Vettel, decide on their long-term futures, Dennis, the Woking outfit's CEO, has reiterated that the former champions always attempt to hire the best drivers available to them.
McLaren's current line-up of Jenson Button and Kevin Magnussen blends experience with youth and Dennis, despite apparent criticism of Button's form earlier this year in an interview with Sky Sports News HQ, insists he's content with both drivers' levels of performance.
"I'm satisfied with both Jenson and Kevin. They're both capable of winning Grands Prix in a competitive car - Jenson has proved that 15 times in his long Formula 1 career, and Kevin has already demonstrated abundant pace in his so-far-short Formula 1 career - but clearly we're not giving them a competitive car at the moment," Dennis said in an interview with the official F1 website.
"Nonetheless, despite that, I want them to give their best - and, at the same time, be responsible enough to appreciate that McLaren will always make efforts to hire the best drivers available. If such opportunities arise, we'll appraise them; we always have and we always will. All great Formula 1 teams are the same in that regard. But we're not in a position to do that at the moment."
Next season represents a milestone year in McLaren's recent history with the Woking outfit reuniting with Honda – the Japanese engine maker, which they won a host of successive world titles with in the late 1980s and early 1990s – after 19 years with Mercedes.
The signing of a multiple World Champion such as Vettel or Alonso, be it for next season or 2016 – by which time Vettel's current Red Bull contract would have expired, for instance – would undoubtedly represent a major coup for the revised partnership. Dennis, though, pointed out that such a calibre of driver had to be on the market first.
"As I say, we'll always look to employ the best drivers available - but they have to be available, don't they?" Dennis added. "Having said that, for the avoidance of doubt, Jenson and Kevin represent an excellent blend of capable experience and youthful promise, and we're very happy with both of them. The fact that we're keeping an eye on what a few other drivers are up to in no way contradicts that, because, as I say, if opportunities arise, we'll appraise them - we always have and we always will."
Despite Ferrari chief Marco Mattiacci insisting in an interview with Sky F1's Martin Brundle at last week's Belgian GP that star driver Alonso would definitely stay at the team into 2015 – the Spaniard's contract actually runs to the end of the following season – The Daily Telegraph claimed on Wednesday that Dennis 'has spoken with Alonso over a move back from Ferrari after their acrimonious split at the end of 2007'.
At 34-years-old, Button is thought to be particularly vulnerable to any star arrival and Dennis's call ahead of July's British GP for the 2009 champion to "try harder" was viewed at the time as a stark warning to the veteran driver. Reflecting on his comments nearly two months on, Dennis insisted: "Anyone who has actually seen the TV interview in question will know that there was an element of humour in what I said. Having said that, did I also intend to give Jenson a bit of a wake-up call? Yes, I did. But I did it softly, not maliciously. Indeed, perhaps the efficacy of my strategy was confirmed by the fact that Jenson immediately reacted by achieving his best race result of the year."
Having not won a race since the end of 2012 and currently sitting fifth in the Constructors' Championship, McLaren's ability to attract a box-office name essentially rests on the Woking outfit's ability to return to the front of the field in their new Honda era.
Dennis admits he already knew last winter that 2014 was going to be another difficult campaign for the team but insists the changes he has made since returning to front-line involvement in January need to time to bear fruit, while other staff appointments can be expected.
"In fact, over the winter of 2013-14, as I was looking at the aero data I was being shown by McLaren's designers and engineers, I already knew that 2014 was going to be another challenging season," he explained.
"But you have to think through changes meticulously before you make them. There are a few more core issues that I still want to address, and there are a few more talented individuals whom I still want to attract.
"That process usually carries with it the necessity to deal with notice periods, which normally manifest themselves in gardening leave, but, as you gradually assemble your team, what you're doing is carefully putting together a complex jigsaw puzzle. As and when the final piece of that jigsaw puzzle is put in place, you begin to edge into a state of competitiveness and ultimately into a state of success. I've done it before. I know how it works."
And, leaving no doubt that he is the man back calling the big shots at the team more than five years after he stepped down as Team Principal, Dennis declared: "All the key decisions that have been taken since January 16th 2014 have been mine, for which, of course, I take full responsibility."