Domenicali: No 'magic stick'
Ferrari's Stefano Domenicali says there is "no magic stick" the Scuderia can wave as they seek to put their bad start to the season behind them.
By Mike Wise at Sepang
Last Updated: 23/03/12 12:00pm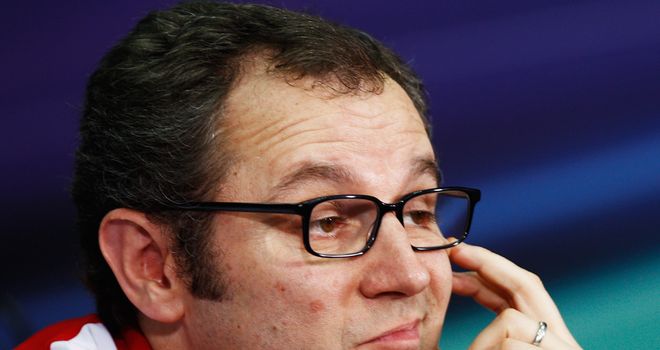 Ferrari Team Principal Stefano Domenicali says there is "no magic stick" the Scuderia can wave as they seek a cure for their early-season woes.
It was another muted performance from the Italian marque in opening practice for the Malaysian Grand Prix on Friday, with Fernando Alonso sixth fastest in the afternoon session while Felipe Massa finished 16th.
Alonso wrestled a fifth-place finish from the troublesome F2012 in Melbourne last week and Domenicali admitted that, with back-to-back races leaving them no time in which to introduce the improvements they require, Ferrari would need a similar performance at Sepang.
"In one week I think it is important at least, as we have already said, we have identified issues on the car and we are working at home to solve it. At the moment we need to maximise what we're doing on the track and that's it," he said.
"In the race everything can happen, so we need to be focused then. And of course with no magic stick you can't do anything."
Little steps
Domenicali admitted that the situation left him feeling unhappy but stressed that the competitiveness of F1 means that small improvements matter.
"I am confident that our engineers will solve the issues we have as quickly as possible because in such a close field a little step makes a difference, and in such a close battle, when you are in a difficult moment, you need to score points because everything can happen," he said.
"(I'm) not happy as I said but not to be happy doesn't help, and I've asked my engineers to be focused on the job because that is what they have to do."
After Ferrari's disappointing weekend in Australia, both Domenicali and Technical Director Pat Fry returned to the team's Maranello base.
Explaining the decision, Domenicali said: "What we did was to make sure that the focus on the programme has to be there at home with the engineers, mainly in the aerodynamic department.
"I've asked Pat to be spot on, on the case, in order to make sure that now that there is a lot of meat on the fire, we need to make sure this meat will be delivered as quickly as possible, as there is no time to lose."
Confidence
Domenicali, who summed up Ferrari's current problems as "traction in low-speed corners and speed" also said the decision to hand Felipe Massa a new chassis this weekend was in order to build his confidence.
The Brazilian struggled with an ill-balanced car last week before his retirement from the Australian Grand Prix and is using Ferrari's spare chassis in Malaysia as they try and work out whether a problem exists with the first.