RBR: rivals' pace led to tyre call
Christian Horner is hopeful Red Bull will be able to take the fight to McLaren in Sunday's race after deciding to split their drivers' tyre strategies in Q3.
Last Updated: 24/03/12 9:22pm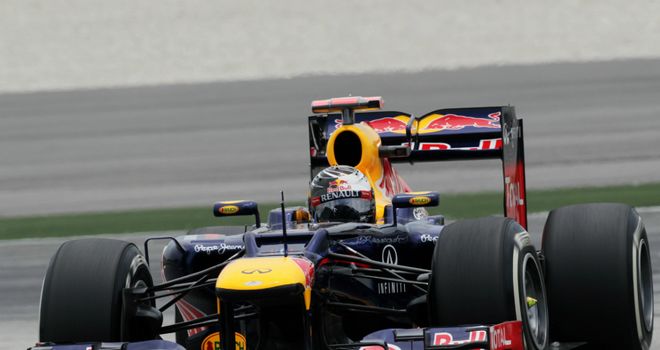 Red Bull chief Christian Horner says McLaren's superior qualifying speed around Sepang led his team to take the decision to split their tyre strategies in Q3 - but he remains hopeful they can take them on in the race.
After three seasons of qualifying dominance, the single-lap speed pendulum has swung towards McLaren so far in 2012 and, for the second successive weekend, Lewis Hamilton and Jenson Button locked out the front row with neither Mark Webber nor Sebastian Vettel featuring in the fight for pole.
But rather than simply following a normal plan in order to achieve the optimum grid positions, Horner says the team made a "late call" to run Vettel on the slower, but more durable, hard compound for his two Q3 runs in order to give the team more flexibility with their strategies for Sunday's race.
"It was quite a late call at the end of the day," he told Sky Sports F1's Ted Kravitz.
"We didn't feel we quite had the pace today to take the McLarens on over a lap, so that's why we decided to split the strategies with the two drivers.
"Sebastian had an extra set of primes available to him having not used two sets in Q1, so we felt to split the strategies probably wasn't a bad thing all considered.
Asked what kind of advantage the decision to run Vettel on the hards might have in the first stint of the race, Horner said it was impossible to say for sure but did acknowledge the German should be able to run a longer first stint and give the McLarens something to think about.
"I've got no idea!" he replied. "Theoretically the prime should run a bit longer and be a bit more consistent.
"But we'll see tomorrow. If we had just run the soft tyre we'd have qualified probably absolute optimum third and fourth, we've qualified fourth, and with Raikkonen's penalty, fifth. And we've split the strategies.
"We've got both options or both strategies covered and hopefully we can give the McLarens a good race tomorrow. They are very, very quick here as they've showed all weekend but hopefully our race pace will be good tomorrow."
Horner also pointed out that Webber, who qualified fourth on the soft tyres, was within striking distance of second-placed Jenson Button on outright pace: "I think Mark did a great lap on his final run and to Jenson is pretty close - Lewis has done a good job this afternoon - but there's only a tenth between him and the front row so it all bodes well for an exciting race tomorrow."
Vettel, meanwhile, painted a slighty different picture of the reasoning behind the decision to complete Q3 on the less optimal tyre - revealing his RB8 was simply performing better on that compound.
"There was not much strategy behind [the decision] to be honest," the World Champion told Natalie Pinkham.
"I was struggling on the soft tyres and thought I had a better car on the hard tyres, that's why I made the call.
"We could have maybe gone a tenth, tenth and a half, quicker or two on the soft tyres but then we went significantly faster on the hard tyre.
"So whether that is an advantage tomorrow... because we are the only ones [to run the hards] we hope it might be, but we'll see."
The World Champion, who started only sixth last weekend in Melbourne but finished second in the race, says significant one-lap improvement at Sepang was unlikely given the short turnaround between races, but is nonetheless optimistic race pace will again be stronger.
"I think what do you expect to happen within one week?" he said.
"We had not such a good qualifying in Australia, not such a good qualifying here. We had a good race in Australia so we are looking forward to the race, I think we can do a little bit more there - our race pace should be better.
"But nevertheless there is plenty of work to do, we are aware [of it] and we will push hard."