Despite a difficult qualifying session Jenson Button insists McLaren are improving
Former champ lines up 10th in Malaysia but says progress is being made
By Mike Wise at Sepang
Last Updated: 29/03/14 8:57pm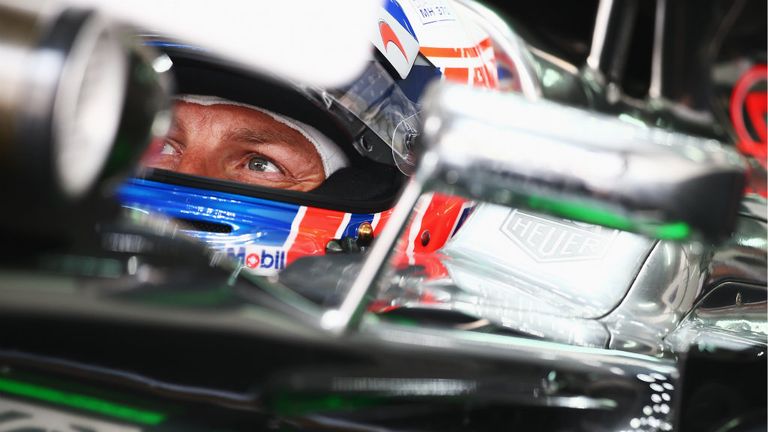 The former World Champion lines up tenth on the grid for Sunday's race after making the wrong call on tyres during Q3, with Button opting to run on intermediates just as heavy rain - which had earlier caused a 50-minute delay - returned.
Rookie team-mate Kevin Magnussen survived a spin into the gravel during session two, meanwhile, but recovered to qualify seventh.
Having taken top spot in the constructors' standings in Australia, McLaren have introduced upgrades to their MP4-29 this weekend. The car features a new nosecone and front wing, although Button reckons performance improvements have been difficult to spot as the high-speed 5.543km track does not play to its strongest suit.
The team also lost valuable track time during third practice earlier on Saturday after sensor problems forced them to keep Button and Magnussen in the pits as a precautionary measure.
"I feel that they've given us something. I think this is a circuit where it's a little more difficult for us; the strength of our car can't show through," Button said.
"High-speed is an area where we do need to work and improve. It's tough in both conditions: in the dry you don't have enough downforce in the high-speed corners; you overheat the tyres too easily.
"In the wet, you can't get the tyres in the working range, because you can't get the tyres warm enough because you're going too slow.
"I don't think we were as competitive as we were at the first race but I think that's just circuit-dependent."
Button explained that McLaren wanted a more consistent car this year after their difficulties with its predecessor - even if that meant sacrificing downforce.
"I don't think we expected to be that far behind Mercedes [but] I think we're pretty much where we expected and we're just improving all the time," he said.
With former team-mate Lewis Hamilton on pole for the Silver Arrows, Button reckons the race is theirs to lose.
"They proved their pace in Melbourne; in the race, I don't think they were giving it everything. After Lewis's problem, I think [Australian GP winner] Nico [Rosberg] backed off a little bit," he said.
"Here, when they actually turn everything up and they go for a lap, they've proved that they're very, very fast."
Button had hoped the tropical temperatures would dry the track at the start of Q3. But instead the rain intensified, with the 34-year-old admitting the final call on tyres had been his.
"When I did my first lap on inters and came in the pits, at that point if it didn't rain, I think it would have been a good call," he added.
"I put a new hot set on because I thought they would be good at the end of the session - and I didn't think it was going to rain again, because we'd had such a big downpour.
"It was a bit of a roll of the dice and I went out and it rained, especially around the back of the circuit.
"I think we were in a position where we could take some risks. We're not fighting for the front row on wet tyres, so I felt like it was worth a gamble."
Magnussen, who finished on the podium in his debut race two weeks ago, also admitted his error after losing control at the final corner.
The 21-year-old Dane recovered to the pits and progressed to Q3, although his car's diffuser was damaged.
"That was a mistake for me. It's quite misty, so the spray doesn't really settle into the last corner and I missed by braking point, braked too late, locked up and locked the rear," he said.
"I don't know how much [the damage] cost, we'll have to see. But it wouldn't have helped."