Hamilton calls for pit-stop inquest
Lewis Hamilton says McLaren need to promptly get to the bottom of the repeated problems they're having with pit stops before they lose any more points.
Last Updated: 22/04/12 6:50pm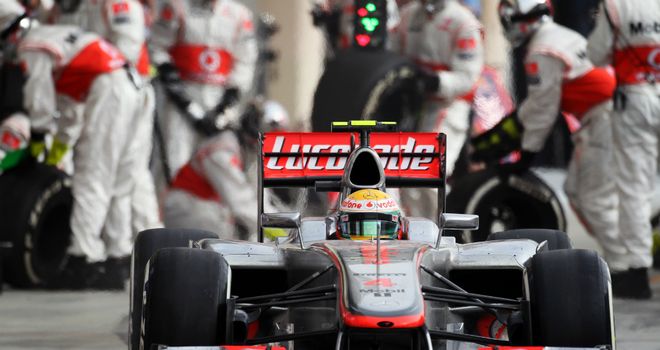 Lewis Hamilton has urged McLaren to investigate their ongoing pit-stop woes before they cause any lasting damage to their championship challenge.
The British-based team have had a series of pit-stop failures since the start of the season, including one for Jenson Button last Sunday in China owing to a sticky wheelnut which cost the Briton any realistic hope of overhauling Nico Rosberg for victory.
In Bahrain on Sunday yet another issue with a left-rear wheelnut cost Hamilton chunks of time at both his first and second stops and sent him spiralling down the order.
Amid general problems for the team to replicate the kind of pace they had hitherto shown all season in the hot conditions, Hamilton ultimately finished down in eighth and afterwards told Sky Sports F1 that an inquest into the pit-stop problems was urgently required.
"There should be [an investigation] because we gave a lot of points away today which championships are lost from," an evidently-frustrated Hamilton told Natalie Pinkham.
"So we have to try and make sure we pick up on the next race because we can't afford to lose points like we did today."
Speaking later to Ted Kravitz, McLaren Team Principal Martin Whitmarsh explained exactly what the problems had been at each of the first two stops.
"The first [pit stop] one we had what we call pegging, which is when the drive pegs and the drive holes don't align which is pretty unfortunate," he said.
"The second one we had a cross-thread which we have seen once before. So pretty disappointing, we lost a lot of time and places for Lewis."
Yet despite the repeated problems Whitmarsh, however, insisted McLaren wouldn't be about to press into service more complex wheel-changing methods such as those used by Ferrari and Mercedes.
"We have such a system. I think you saw last week with Michael [Schumacher], that it can be even more catastrophic, so I would say at the moment the right thing to do is get to a fool-proof system that doesn't cause failure before you get more adventurous," he said. "If you cross a thread on a captive nut then you've got a much bigger problem. It took Michael out of the race last weekend and it's not something you can recover from.
"At the moment it's very annoying, you lose a few seconds - which is deeply annoying and deeply frustrating - but it's not catastrophic. So I think right now we concentrate on the basics before we get too adventurous with other ideas."
Hamilton's lowly finish meant he lost the lead of the World Championship to reigning title holder Sebastian Vettel following the German's first win of the season on Sunday.
The 27-year-old, however, was still reasonably philosophical about the problems and took the positives of at least still being able to keep his points tally moving forward.
"It's motor racing," he said. "I had no idea what went on but I was hoping the second time I came in I wouldn't have that problem, or I was hoping that it would be a good pit stop.
"But it was exactly the same, if not a little bit longer than the previous one. So a lot of ground lost today but we still picked up some points so I've got to be happy with that."
Indeed Hamilton admits the points were about the only plus point he could take away from the race, the Briton also telling Natalie: "There weren't many positives for me, no. Just the four points are the only positive I can take out of today.
"My pace wasn't great, really struggling to look after my rear tyres throughout the day. But picked [up]some time at the end of the stint and looked after my tyres. As I said, I got everything I could out of the car."