Horner: Race panned out perfectly
Christian Horner has told Sky Sports F1 that Red Bull were relieved to see Lotus pit Kimi Raikkonen on the same lap as Sebastian Vettel at the final stops.
Last Updated: 22/04/12 6:41pm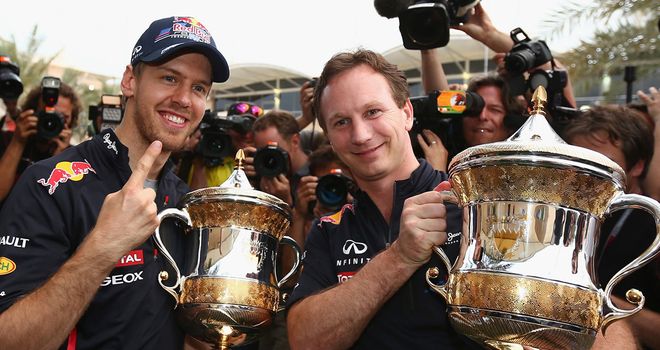 Christian Horner admits the cards fell perfectly into place for Red Bull in the Bahrain Grand Prix after the team overcame a fierce challenge from Kimi Raikkonen to return to winning ways.
Raikkonen had caught up race leader Sebastian Vettel on the track with a storming drive from 11th on the grid by the end of the third stint, but despite being able to engage DRS on the main straight for several laps, was unable to overtake the Red Bull driver.
With the Lotus appearing to be kinder on its tyres than the Red Bull in the hot track conditions, it seemed likely that Lotus would attempt to undercut - or even outrun - their rivals at the approaching final pit-stop phase in a bid to vault Raikkonen into the lead.
However, as it turned out, on lap 40 the pair pitted in unison and a problem-free stop allowed Red Bull to hold position, which Vettel didn't relinquish over the closing 17 laps.
Asked by Sky Sports F1 after the race if he had been relieved to see Lotus pit on the same lap, Horner, Red Bull's Team Principal, replied: "Yeah, because we thought we could take them on in a pit stop and the boys turned the car around a second quicker which was phenomenal.
"So I was quite pleased to see him follow us in!"
Horner, however, believes the option of pitting Raikkonen a lap earlier had been closed off to Lotus as had they done so it would likely have dropped the Finn right behind the second RBR of Mark Webber.
Indeed, given they didn't feel it could run on the medium rubber for more than the 17 laps left in the race at the time of Vettel's final stop, Horner acknowledged things had worked out perfectly for his team.
Asked about the possibility of Lotus pitting Raikkonen before lap 40, Horner replied: "I don't think so because I'm sure Mark wouldn't have waved him past," he said.
"It just panned out perfectly for us. We needed to stop both the guys on that lap because they were both in trouble tyre wise and that was the earliest we dare go to get to the end of the race. So great performance."
After problems exploiting the RB8's full potential over the first three races, particularly over a single lap, Horner said of Red Bull's return to winning ways ahead of the sport's return to Europe: "It's been a great performance from the whole team today.
"To have managed to get the win, tremendous performances by all these guys and girls and back home at the factory in Milton Keynes."