Bahrain in-season Test, Day One: Mercedes pick up where they left off at Sakhir
Teams and drivers back in action two days after Merc-dominated GP
By James Galloway
Last Updated: 09/04/14 4:13pm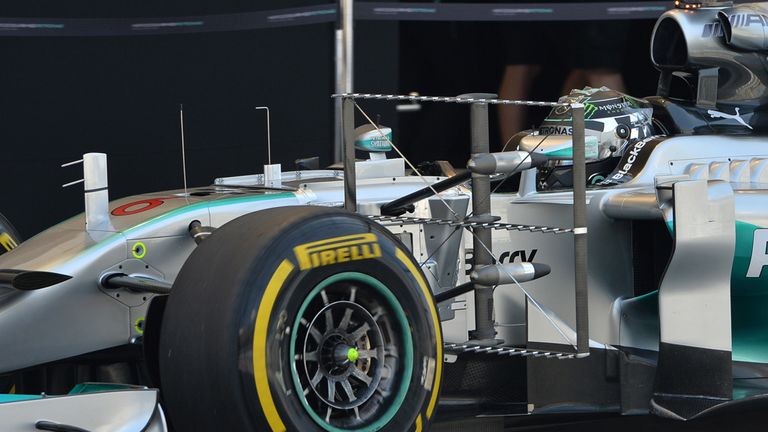 Aside from a one-off test at Mugello two years ago, there had been a blanket ban on full in-season running outside of grand prix weekends since the end of 2008, but in one of 2014's less-publicised changes, the rules have been relaxed for this season with four two-day sessions organised on the Tuesday and Wednesday after races.
Bahrain is the first venue to stage such a test and unsurprisingly, given the team's crushing margin of superiority en-route to their one-two race race finish at Sakhir, it was Mercedes who ended Day One on top, with Rosberg back in the W05.
The German driver, narrowly beaten to victory on Sunday after a titanic tussle with team-mate Lewis Hamilton, set the pace with a lap of 1:35.697 - two-and-a-half seconds slower than Rosberg's own pole time from last weekend. He completed 121 laps, the equivalent of two race distances.
After proving Mercedes' closest, albeit distant, challengers in the grand prix, Force India took second place on the 11-car timesheet with Nico Hulkenberg ahead of Ferrari's Fernando Alonso, whose F14 T stopped on track in the morning, and McLaren rookie Kevin Magnussen.
The test comes at a particularly useful time for Ferrari after Alonso and Kimi Raikkonen struggled to painful ninth and tenth place finishes in race conditions at Bahrain. The Italian team ran with a number of sizeable aero-measuring devices on the troubled F14 T and spent their 69 laps working on electronic configuration tuning and set-up work with Alonso completing a series of shorter runs in the afternoon, during which he clocked his best 1:36.626 time to leapfrog Magnussen.
Although Williams completed only 28 laps with Valtteri Bottas, the Finn took fifth ahead of Marussia's Max Chilton and was left encouraged by the progress made with new parts trialled on the FW36.
"Overall it was a good day as we managed to complete the programme as planned," Bottas said.
"We then worked on set-up and we were quite experimental, so hopefully that will help in the next few races. Next it was time to test some new aero components with some positive results."
Daniel Ricciardo, who like Alonso is completing both days of the test, put 91 laps on the Red Bull RB10 in seventh place while 18-year-old Russian Sergey Sirotkin racked up an encouraging 76 laps on his full F1 debut with Sauber.
One requirement of the in-season tests is that each team have to give one of their 12 days of running during the year over to bespoke work for Pirelli, so that the Italian supplier can test their tyre developments.
Caterham were the first team to do so at Sakhir with test driver Robin Frijns behind the wheel of the CT05, but their day was ended mid-way through after a hydraulic system leak necessitated a lengthy rebuild of the car.
"When we finished the last run before lunch we found a hydraulic system leak that meant the guys had to take the floor and gearbox off and with the time it would have taken to rebuild the car we made the call to end the session early so we could prepare for day two," Frijns said.
"There's not much I can say about the tyres we were running today as they're obviously development sets and because it was a Pirelli test today we weren't aware of what compounds we were running."
While, in keeping with their travails from the pair of pre-season tests at Sakhir in February, fellow Renault-powered runner Lotus ran into yet more problems as a power unit failure ended their day early. Pastor Maldonado had completed just 16 laps by that point.
Sunday's race winner Hamilton returns to the W05 for Wednesday's second and final day when Mercedes and Williams will carry out test work for Pirelli.
Bahrain Test, Day One timesheet:
1. Nico Rosberg, Mercedes, 1:35.697, 121 laps.
2. Nico Hulkenberg, Force India, 1:36.064, 69 laps.
3. Fernando Alonso, Ferrari, 1:36.626, 69 laps.
4. Kevin Magnussen, McLaren, 1:36.634, 102 laps.
5. Valtteri Bottas, Williams, 1:37.305, 28 laps.
6. Max Chilton, Marussia, 1:37.678, 60 laps.
7. Daniel Ricciardo, Red Bull, 1:38.326, 91 laps.
8. Sergey Sirotkin, Sauber, 1:39.023, 76 laps.
9. Robin Frijns, Caterham, 1:40.027, 63 laps.
10. Pastor Maldonado, Lotus, 1:40.183, 16 laps.
11. Daniil Kvyat, Toro Rosso, 1:40.452, 67 laps.