'Nothing McLaren could do'
McLaren realised it was inevitable Vettel would overtake Hamilton for second place in Australia once the safety car was called, reports Ted Kravitz.
Last Updated: 22/03/12 6:38am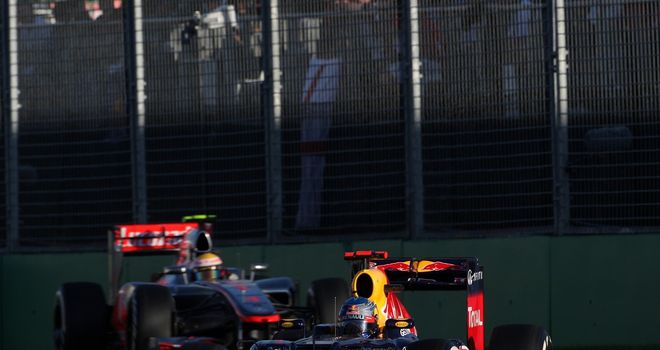 McLaren realised they were helpless to prevent Sebastian Vettel overtaking Lewis Hamilton for second place in the Australian Grand Prix once the safety car was called, reports Sky Sports F1's Ted Kravitz.
The British driver had been running two seconds ahead of Red Bull rival Vettel when McLaren opted to simultaneously pit Jenson Button and Hamilton from first and second places respectively on lap 36.
However, the safety car was pressed into service after Vitaly Petrov's Caterham stopped on the inside of the pit-straight moments after the McLarens returned to the track, meaning both drivers had to adhere to a strict target lap time.
Vettel, further round the track than the two McLarens, was duly brought into the pitlane for his own second stop by Red Bull and the World Champion surprisingly re-emerged between Button and Hamilton.
Speaking in his Melbourne video notebook following the race, Ted clarified exactly how Vettel had managed to make up the time and split the McLarens.
"You saw McLaren stack their drivers - they stopped them at the same time - so they were out the back of the circuit when the safety car was called and they had to go at the set speed that the safety car denotes that you have to go," Ted explained.
"In the meantime, Sebastian Vettel was having to go at that speed for a much shorter amount of time while he got to the pitlane. He came in, had to come down the pitlane at the unadulterated speed, stop and then come out.
"So McLaren tell me that they knew as soon as the safety car was called that Lewis Hamilton had lost that second position to Sebastian Vettel. There was nothing they could do about it."
Once in front, Vettel held on to second place when green flag racing resumed to finish second to Button.