Sebastian Vettel takes a star turn in adversity as he battles back in Spanish GP
Impressive Ricciardo celebrates his first-ever official podium finish
By Pete Gill
Last Updated: 11/05/14 6:18pm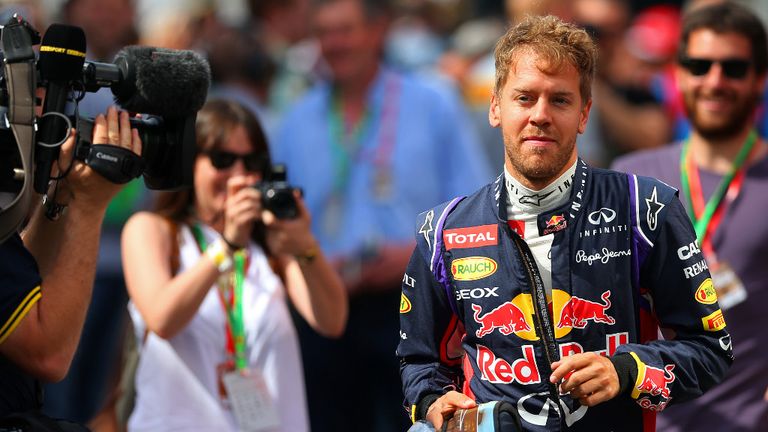 In the wake of a dreadful start to the new season, in which he has been comprehensively out-performed by new team-mate Daniel Ricciardo, Vettel bounced back to form in remarkable fashion at Barcelona.
Starting a distant 15th after a gearbox change, Vettel finally rediscovered his groove as the World Champion charged through the field on a three-stop strategy to finish an encouraging fourth behind Ricciardo and the runaway Mercedes cars of Lewis Hamilton and Nico Rosberg.
"We did what we could, it was a difficult weekend because I didn't get a lot of practice and then had the demotion, but I was happy in the race," said Vettel.
"I had to be patient at the start. The car was sliding, the cars in front were sliding, but once the traffic cleared we were able to show the car's pace and we had a good strategy with the softer tyre at the end."
Although Ricciardo's first ever podium-finish in F1 was a just reward for another outstanding display, it is a sobering fact that the young Australian crossed the line over 45 seconds shy of race winner Lewis Hamilton.
Yet despite the warning from McLaren's Jenson Button that "it's going to be tough for anyone to win a grand prix this year apart from the Mercedes," an optimistic Vettel says Red Bull are still targeting race victories this term.
"All the teams are still trying," the German told Sky F1. "They have a very good package, a phenomenal engine, a great car, and very good drivers - all in all that makes them very strong and difficult to beat. But our point here is to win. It would be very sad just to come here and aim for third."
Buoyed by Red Bull's best result of the year, team boss Christian Horner was full of praise for both of his drivers.
"After the weekend Seb has had, with no practice on Friday, and a gearbox failure on Saturday, plus the frustration of a penalty, he has taken his chance. It's been a tough time for Seb but he's never let his chin drop and today was a fighting drive," said the Red Bull Team Principal.
"Daniel is thoroughly deserving of his first official podium having been faultless all weekend."
Ricciardo's only previous experience of a F1 podium was in his home race Australia two months ago, where he finished second on the road only to be disqualified three hours after the chequered flag had fallen.
"It's nice to stand back up on the podium - I actually still feel a bit awkward up there, but I'm sure I will get more comfortable," Ricciardo said. "It seems at the moment it's Mercedes who are battling between themselves and they are doing a tremendous job. With Seb coming through the pack for fourth today, it seems we have been the second best team this weekend."
Horner, meanwhile, believes the gap to Mercedes is being closed.
"We've made a bit of a step this weekend, but there is still quite a gap to close down," he added.
"Fuel development is critical today and we had a new fuel from Total this weekend and it helped. We need more of those steps.
"Our focus is on Monaco where we would hope to get a bit closer to them again. It's not a power circuit whereas Montreal is all about power. That's our fear - that in Montreal all the Mercedes teams can give us a hard time. But between now and then, I think we can make progress. Renault are not just in [F1] to take part, they want to be running at the front."