'Lotus system not a Mercs copy'
Sky Sports F1's Ted Kravitz believes the new air-channelling system on Lotus's car should not be considered an imitation of Mercedes's double DRS.
Last Updated: 20/07/12 12:50pm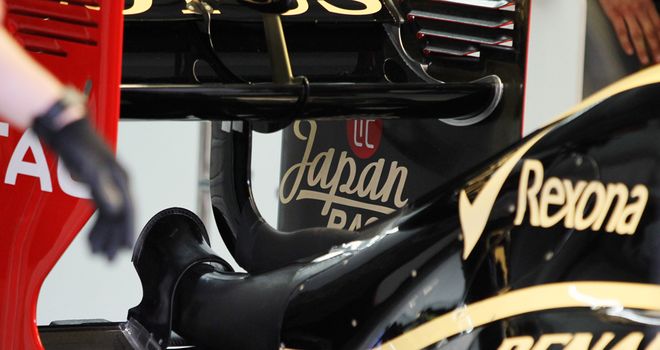 Sky Sports F1's Ted Kravitz believes the new air-channelling system which appeared on the Lotus E20 in Practice at the German Grand Prix should not be considered an imitation of Mercedes's double DRS as it does not influence the front wing.
Lotus stole the thunder of McLaren at Hockenheim on Friday morning by unveiling intriguing-looking air ducts either side of the roll-hoop on Kimi Raikkonen's E20 in first practice at Hockenheim.
The new look, however, was not repeated on Romain Grosjean's car as the team apparently set about comparing the efficiency of the two differing designs - and appearances.
It was Raikkonen's car which thus stood at the centre of attention and, although it was initially unclear where the collected air was being channelled too, and for what purpose, Ted confirmed on Sky Sports F1: "It definitely is for aerodynamic gain.
"The air that goes in just either side of the roll hoop just comes on a little sort of air exit, like a very big exhaust pipe just on top of the rear crash structure. So it's actually got a little winglet on the back of that.
"It is definitely an aero development than a cooling one."
Mercedes caused controversy at the start of the season when they unveilved what has become known as a double DRS system, with slots in the inside of the W03 collecting air when the rear wing flap is activated and then channelling the air down pipes to the front wing to stall air there.
Kravitz, however, insisted that Lotus' system was rather different, with airflow at the rear of the car the focus.
"We won't call it a Mercedes-style double DRS because it's not that. Mercedes what they do, is actually route air towards the front wing and undoubtedly Lotus aren't doing that," he added.
"I just thinking they're maybe changing pressure towards the rear of the car with this air duct, making it work better."
With Lotus engineers heavily guarding the upgraded car when it was in the garage, Raikkonen only ran 14 laps in P1 and then his best hot lap towards the end of the session was over two seconds off the pace being set by McLaren.
Ted added: "Just a side product is Kimi Raikkonen, who's their best chance for a good result this weekend what with [Romain] Grosjean's grid penalty for a changed gearbox, hasn't been getting the job done in terms of his practice in this session.
"This session is when he normally runs his heavy fuel runs, he does his long tyre runs on the harder compound and he hasn't been able to do that.
"I'm just wondering with all this work they're doing for the aerodynamicists that it better be an absolutely brilliant tweak they've got on it because it's hurting them in terms of race preparation."