McLaren fancy fightback in dry
Jenson Button and Lewis Hamilton believe McLaren can put their wet-tyre problems behind them and come through the field if Sunday's race proves dry .
Last Updated: 21/07/12 8:31pm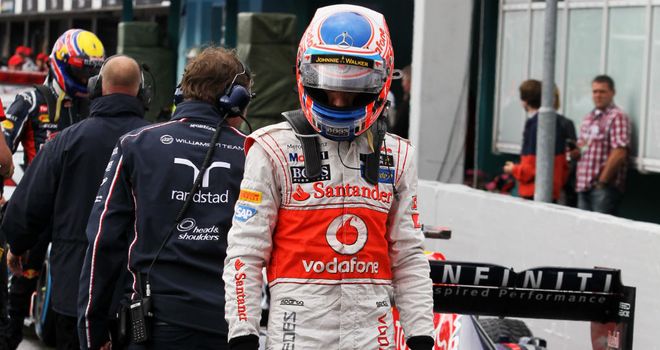 McLaren duo Jenson Button and Lewis Hamilton believe they will have a chance of coming through the field in dry race conditions at Hockenheim on Sunday after the team suffered a second successive poor qualifying result in the wet.
Equipped with a series of upgrades to the MP4-27 for this weekend's event, both drivers had looked competitive in the brief windows of dry running throughout practice at Hockenheim, and again in the early dry stages of Q1 when the field ran on the medium tyres, yet when the rain was at its heaviest in Qualifying and the full wet tyres were required both British drivers faded from contention.
Button and Hamilton ultimately ended up behind Nico Hulkenberg and Pastor Maldonado in seventh and eighth positions respectively on the timesheet - although will start one place higher apiece on Sunday owing to Mark Webber's grid penalty - and the former admitted that, as was the case at Silverstone, their cars simply weren't generating enough grip from the grooved wet rubber again.
"I did get a lap in at the end but it didn't seem that it was drying much," Button told Sky Sports F1's Rachel Brookes. "We came in at the end to get a new set on because we thought higher temperatures it would work better, but I just couldn't get them working.
"I think the issues that we've had this year, and the issues that I've had in particular to get the tyres working, were seriously exaggerated in qualifying. In the wet we just struggled to get the tyres working.
"I've raced F1 cars for years but it didn't feel like I had any grip out there. The tyres just didn't seem to be working, it didn't seem to be normal."
Although McLaren got both cars out first in Q3, the downside of that was that by the end of the session, when the track's condition was improving fast, they finished their sessions before the likes of Fernando Alonso and the two Red Bulls.
Hamilton reckons this was a factor in their fourth-row qualifying positions, also telling Rachel: "We're disappointed with the end result of course.
"We were looking good in Q1 in the dry and then we were looking good in Q2 and it was looking quite okay through the [final] session and then at the end I don't understand how everyone went that much quicker.
"But we were a little bit unfortunate as well. Me and Jenson were the first two out and so we did our last laps first and the track just kept getting better and better. So I guess the guys further back were able to get better laps. Even if we had done a better lap, it would have been faster.
"It's a tough one but we'll do what we can from there tomorrow."
Indeed both British drivers reckon they will have a car underneath them to put up more of a fight across the longer distance, particularly as the rain clouds are forecast to avoid Hockenheim on Sunday afternoon.
"I think we should be pleasantly surprised that we've sort of lucked in to an okay starting position for tomorrow," added Button.
"The car is very strong in the dry and I think the guys have done a great job of bringing the package that we do have here for the dry and I think that we can race well from there.
"We just need to start solving our issues of getting the tyres working."
Meanwhile, Hamilton, who showed overtaking is possible at Hockenheim by storming back from an additional pit stop to win four years ago, added: "The great thing here is you have big DRS done the back[straight] so hopefully we'll be doing some overtaking tomorrow."