Whitmarsh: McLaren are back
Martin Whitmarsh believes Jenson Button's performance in the German GP proves McLaren are back in the hunt for victories in the second half of 2012.
Last Updated: 22/07/12 6:42pm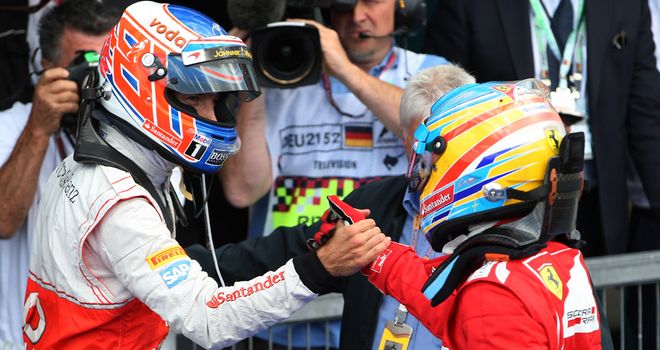 Martin Whitmarsh has declared his McLaren team are firmly back in a position to win races after their expectation of stronger pace in dry conditions came true at Hockenheim on Sunday.
McLaren's recent difficulties in getting heat into their tyres in the wet manifested itself into sixth and seventh grid positions at the end of Saturday's qualifying session, but having shown stronger pace with their upgraded car in the dry in the brief windows of normal running up until then in Germany, the team had been confident of moving forward in race-trim.
And although Lewis Hamilton's race was all-but ruined on the third lap by a puncture, Jenson Button passed both Nico Hulkenberg and Michael Schumacher during the course of the first stint and swiftly caught race leaders Fernando Alonso and Sebastian Vettel through the middle phase of the race.
A record-breaking second McLaren pit-stop, timed at 2.3 seconds, allowed Button to jump into second at the last stops and he appeared set to challenge Alonso for the win until falling back into the clutches of Vettel during the final stages.
Speaking even before the World Champion was relegated from second place for overtaking Button from off the track, Whitmarsh was understandably delighted at the clear evidence that McLaren have finally caught Red Bull and Ferrari again.
"It was a great drive. A frustrating day in many ways but to start back there, he lost a lot of time at the beginning of the race, he had to catch those guys, so he drove brilliantly," he told Sky Sports F1's Ted Kravitz.
"The pit stop I think was 2.31 [seconds] to get out in front was great work by the team, so I'm very proud of them as well.
"So there were lots of positives but just a little bit frustrating that we could have done better here.
"But the underlying news is that we were very competitive and there's a lot of racing in this season and we can certainly win some great races."
With around 10 laps to go Button had closed to within 0.6s of Alonso and seemed set to launch a sustained attack on the Ferrari into the closing stages, but as it turned out the opposite happened with Alonso pulling away to win by 3.7s and Vettel, albeit contentiously, passing the McLaren for second.
Whitmarsh admits the need to conserve fuel, and fading rear tyres, had contributed to Button's pace tailing off, although is hopeful McLaren can overcome Ferrari next week in Hungary.
"We were, one, saving a bit of fuel at that stage frankly and his rear tyres had gone off a little bit," he said.
"He'd been behind for some time; Fernando is not an easy person to overtake. He did a good job and you've got to give congratulations to them and they're doing a great job at the moment.
"But they're beatable, we've got to concentrate on that and make sure that we really score good points in Hungary now.
"I think we know we've got a competitive car, we've got a good track record there, we've won there quite a few times in the last few years. It's a good time to win just before the [summer factory] shut down in my experience."
The McLaren chief also praised Button's personal performance, the former World Champion having endured a miserable run since last finishing on the podium in China back in April
"I think those people who felt he'd lost form I think he answered that, he was really good," Whitmarsh added.
"Half-way through the first stint Fernando and Sebastian were away and he had to catch them up, have a great stop to get by and race as hard as he did.
"So it was a great drive."
Button, for his part, was just as delighted with the result - and just as impressed with the speed of his record-breaking pit-stop.
"There are two strong positives to take away from today: firstly, although it proved very difficult to overtake, we're right up there with Ferrari and Red Bull in terms of speed. Our upgrade package is working well: if we can sort out qualifying, we're in the mix, and we'll have a really good chance of winning races this season.
"Secondly, although there's previously been some negative talk about our pitstops, the boys did an unbelievable job today. My fastest stop was a 2.31s - the blink of an eye, and, I'm told, the fastest pitstop in history. They were phenomenal and gave it absolutely everything today - all our effort is really paying off now.