Sebastian Vettel confirms he suffered KERS failure during "unbelievable" German GP win
German victorious on home soil for the first time
By Pete Gill
Last Updated: 07/07/13 6:13pm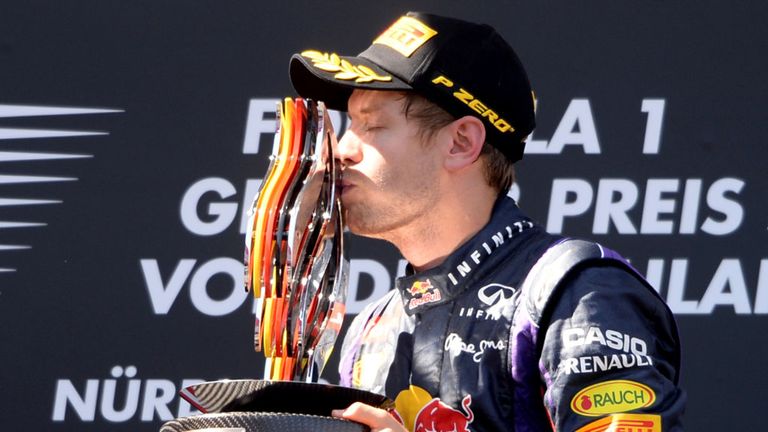 The World Champion extended his lead of the Drivers' Championship to 34 points after repelling a late surge from Kimi Raikkonen to cross the line less than a second ahead of the Finn's Lotus in a gripping finale at the Nurburgring.
"It's unbelievable, I'm very, very happy," said Vettel. "Kimi was pushing us very hard at the end with different compounds, but we had a very solid race and I was pushing on every single lap except for those behind the Safety Car. It's incredible to win my home race.
"I could feel him coming and there was more and more pressure. We lost KERS for a couple of laps so it was very difficult but fortunately the system recovered. I'm very glad the race ended after 60 laps rather than 61 or 62."
However, Technical Director Adrian Newey isn't convinced that Raikkonen - "high on the list" to replace Mark Webber alongside Vettel in 2014 according to team advisor Helmut Marko - would necessarily have triumphed had the race continued for one or two more laps.
"It was all about timing and whether Kimi's options would have gone off from pushing that hard. There's a temptation to say that had it gone on for two laps longer then Kimi would have got him, but equally maybe he wouldn't because the options don't last forever and are a higher-degradation tyre," Newey told Sky Sports F1.
According to the Red Bull designer, the key to Vettel's victory was his push through traffic after following Romain Grosjean into the pits for his third and final pit-stop while Raikkonen stayed out on track for an extended stint.
"We debated whether to split the race into two at the end [after the Safety Car was deployed] and then Grosjean pitting forced our hand. It was important for us at that point not to be held up else Kimi could have got a free stop but Sebastian did a fantastic job of getting through the traffic - and that was the key to the race."