Horner: Staying out 'only real option'
Red Bull Racing chief Christian Horner reckons his team had to try and go for a one-stop strategy with Sebastian Vettel to stay in the podium positions.
Last Updated: 10/06/12 11:59pm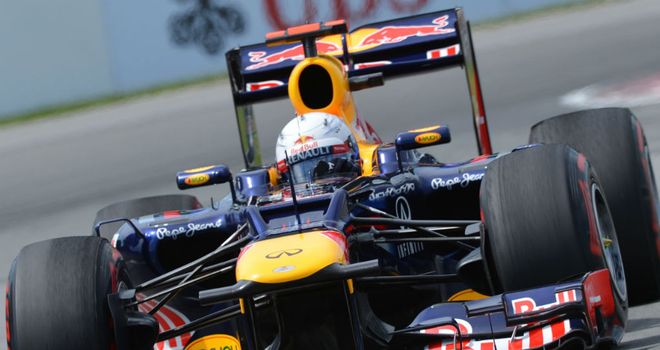 Red Bull chief Christian Horner has insisted that the team's "only real option" was to try and one-stop Sebastian Vettel in a bid to hang on to a podium finish in the closing stages of the Canadian Grand Prix, but that ultimately the RB8's tyre degradation proved too great to make it work.
The World Champions and rivals Ferrari chose not to follow rivals McLaren in pitting their respective lead car for a second time entering the final 20 laps of Sunday's race. Instead, both teams tried to make their soft tyres last for the remainder of the 70 laps and stay ahead of Lewis Hamilton.
Having already run more than 30 laps on the soft tyre at this stage, it seemed a risky move and ultimately backfired as Hamilton easily caught and passed both cars on track, which prompted Vettel to eventually make a stop, while Ferrari kept their car out to the end of the race with costly consequences.
Speaking to Sky Sports F1's Ted Kravitz after seeing Vettel ultimately come home in fourth place, Horner said the team had been limited in their options as had Vettel stopped at the same time as Hamilton he would have come out behind the Lotus of Romain Grosjean anyway.
Asked what the pit wall's choices had been, he replied: "Your options at that point, you tyres are feeling okay, try to go to the [end of the] race, take the track position because we would have come out behind Grosjean who was going pretty quickly at that stage, so the probability of overtaking him would have been limited.
"So our only real option to stay on the podium and beat, for example, Lewis was to stay out there. But then the tyres really started to get into trouble so we made a late call to pit and Sebastian managed to get back past Fernando.
"We were probably just a little bit too hard on the tyres today to make that one-stop really work."
But asked by Ted what might have happened if the team had either pitted Vettel the lap before Hamilton, or not pitted for the second time at all, Horner replied: "If we'd have pitted before Hamilton the net result would have been the same because we'd have come out behind Grosjean. We might have beaten Perez.
"If we'd have stayed out for sure we would have finished much further down."
Vettel had led the early laps from pole position before his supersoft tyres began to wilt, which necessitated a stop on lap 16. Hamilton and Alonso followed suit and moved ahead of the Red Bull.
Horner said Red Bull had been confident enough beforehand that they could make the one-stop work, even with the anticipated increase in tyre temperatures.
"All that's taken into consideration and also the feedback from Pirelli as well gave us a reasonable confidence that it was possible," he said.
"Certain cars did make it: the second and third cars on the podium were both on a one-stop.
"Ultimately, we were a bit too hard on the tyre at the end of (the first) stint. If we'd have had another lap or two there and maintained track position then we'd have been in better condition.
"Towards the back end of the first stint, towards lap 15 to 16, Sebastian started to lose a bit of pace in the car, which necessitated us to stop.
"And then the warm-up on the prime on the out lap, on the harder tyre, isn't fantastic, and that combined with quick in-laps for Hamilton and Alonso enabled them both to get the jump on us."
Armed with the benefit of hindsight, Horner suggested it might have actually been wiser for the team - who on Saturday had seen Vettel take a brilliant pole - to have sacrificed grid positions in order to start on the more durable 'prime' tyre, the compound Sergio Perez had started on to ultimately devastating effect as the Mexican surged to third at the flag.
"A complicated race," the Red Bull boss acknowledged. "Maybe, with twenty-twenty vision, starting on the hard tyre a bit further back might have been a better option in that Perez from 13th on the first lap really made that work today.
"But perhaps we were just a little bit too hard on the tyres. Nonetheless, very good points for us. It's still massively close at the front. In the constructors' we're still going okay...congratulations for Lewis."