Kimi Raikkonen and Daniel Ricciardo both demoted at the Canadian GP
Sauber's Nico Hulkenberg is promoted into the top ten
By Mike Wise in Montreal
Last Updated: 09/06/13 9:28am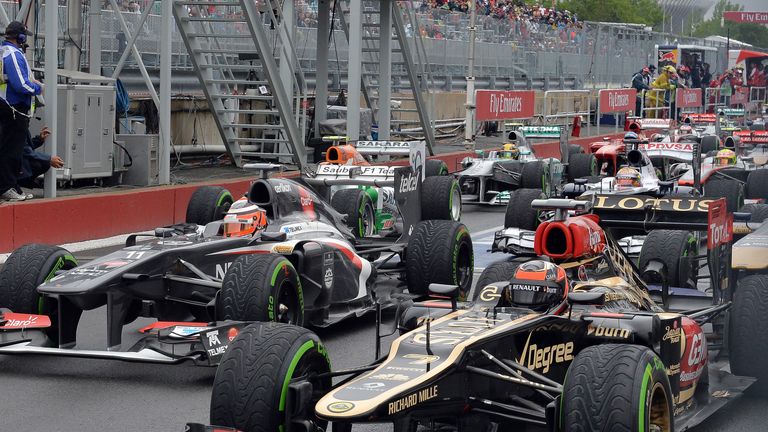 The pair, who had been due to share the fifth row of the grid after qualifying ninth and tenth respectively, were penalised by stewards more than three hours after the session had finished for queuing in the wrong place at the end of the pitlane when Q2 was restarted after Felipe Massa's crash brought out a red flag.
Both, however, will in fact drop only one place because the FIA decided that Raikkonen committed his offence before Ricciardo and so applied his penalty first.
As a result of their demotions, title-contender Raikkonen will start tenth, one place ahead of Ricciardo. Sauber's Nico Hulkenberg has been promoted to ninth with Sergio Perez 12th.
Raikkonen is Montreal polesitter and current points leader Sebastian Vettel's closest championship rival heading into Sunday's race - and the Lotus driver's penalty for not re-entering the track from the fast lane came about after he jumped two cars in the order.
"The Driver [Raikkonen] claimed he intended to make a practice start from the left hand side of the pit exit, as permitted," the stewards' statement read.
"However this does not alleviate the requirement to leave in the order of arrival at the end of the pitlane. In this case the driver left in 2nd having arrived in 4th position."
Further down the queue in sixth, Ricciardo also jumped two places. Raikkonen made a similar getaway in Q3 but stewards said there were mitigating circumstances in that instance.
"The driver claimed he was unduly delayed by Car 2 [Mark Webber]. Car 2 did remain stationary for almost 2 seconds following the start of Q3 and the Stewards conclude in the circumstances this qualifies as 'unduly delayed'," they added.
Pastor Maldonado, Perez and Jean-Eric Vergne were also summoned to the stewards about their part in the contentious Q2 re-start but the panel deemed that no further action was required against the trio.